Summer Immersion Course Provides Business Experience
by Brittney Dick • June 29, 2005

Share:
Wabash College has no formal business department, but that didn't stop 12 students from delving into a special summer business course.
The summer students receive neither a grade on their transcript nor credit toward graduation, but instead are evaluated as though they were working at an internship or other type of employment.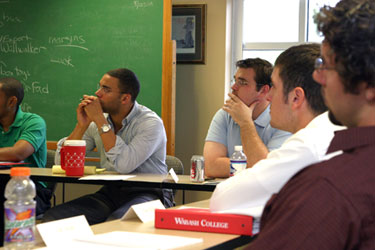 So far students have done case studies, listened to presentations from top managers and received critiques from professionals.
For their first major assignment students were divided into groups of three and required to create a comprehensive business plan for a start-up business. Michael Bohling, whose group came up with Lilly Cafe, and Andrew DeYoung, whose trio formed the basis for a student union, hope to make their businesses a reality during the 2005-06 school year.
Lilly Cafe requires $40,000 for start-up and would be located in the campus' Lilly Library. Specialty coffee would be available. Bohing said right now his team's biggest obstacle is convincing administration officials the group would be able to successfully run the cafe. The team will present their ideas at a trustee's meeting this fall.
Meanwhile DeYoung's group sees a student union as a handy alternative to Citgo, which attracts numerous Wabash students with its 73-cent fountain drinks and other convenience items. His group could match the gas station's price and still profit. The store would also sell candy, cigarettes and prepackaged snacks.
The project would cost $130,000 to launch and would include renovation of the old armory building, where it would be located. The student union would serve as a student hangout and would integrate the game room currently in the building's second story.

Unlike the first major assignment, the current project forces students to use what they've learned to aid existing local businesses in marketing. Students paired up and were assigned a local business. Brandon Clifton and his project partner, Ndeto Mwose, are working with business owner Charlie Campbell of Campbell's on Main Street.
"It's not about me helping them," he said. "They're going to help me too."
As part of their research, the duo plans to visit coffee shops in other towns to research methods for success and overcoming obstacles.
Meanwhile, DeYoung and Bohling are working with Sondra Goebel, owner of a new restaurant and catering service called The Filling Station. Goebel opened her doors to the students before customers.
"We're the only group that is a start-up," Bohling said. Whereas Clifton and Mwose will focus on new innovative marketing strategies,
DeYoung and Bohling will work with Goebel to let locals know the business exists.
"The place just needs to get known," Bohling said. "Then it can get established."

Although students are only halfway through the course, they've already deemed it a worthwhile investment of their time and energy. Clifton's biggest inspiration this summer came during the accounting portion of the syllabus. After CPA Susan Richardson spoke to his class, Clifton decided to attend Indiana University Kokomo for a degree in accounting following graduation from Wabash. He has one semester left.
Clifton, who described himself as an organized and detail-oriented person, wouldn't have known about his interest in accounting if it weren't for the course.
Even if he doesn't decide to be an accountant — and opens a business of his own, Clifton wants to know what is going on with that business. Mwose also has benefited from the class. He said the resume skills he gained will be helpful.
Mwose plans to attend dentistry school after graduation and hopes to have his own office — an endeavor in which he could implement the knowledge he gained this summer.

Dick is a reporter for the Crawfordsville Journal Review
In photos: At top: Students in the Summer Business Immersion Course listen to Wabash alumnus Rod Kenley talk about he started his own business. Lower left: Kenley explains how he got started.