Professor Placher Featured on PBS Program
• June 15, 2005

Share: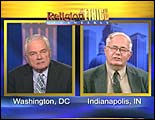 Wabash College Professor of Philosophy and Religion William Placher was featured on a weekend segment of PBS's Religion and Ethics television program.
Placher was interviewed on the June 10 broadcast by veteran television journalist Bob Abernethy. The segment was on the treatment of prisoners at Guantanamo Bay.
The link here provides the nearly four minute video interview and a transcript of Placher's comments.