Wabash Says Goodbye to Ditzlers
by Jim Amidon & Dwight Watson • June 10, 2005

Share: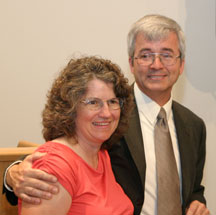 The Wabash community gathered on Friday to pay tribute and bid farewell to Dean of the College Mauri Ditzler '75, who will become the 13th president of Monmouth College on July 1.
President Andy Ford, Trustees Joe Barnette, Steve Bowen, Kevin Clifford, and John Fox, NAWM President Jim Davlin, and a crowd of faculty and staff honored Ditzler, who served as Wabash's dean from 1999-2005. Ditzler was responsible for hiring more than 40 percent of the current faculty; participated in the planning and establishment of the Center of Inquiry in the Liberal Arts at Wabash College; and was an active fund-raiser in the successful $136.1 million Campaign for Leadership.
Ditzler's colleagues, Dean of Students Tom Bambrey and Dean for Advancement Joe Emmick, gave Ditzler a good-natured ribbing, while also honoring him for his success at Wabash. Trustees Bowen and Barnette thanked Ditzler for his service, and wished him well in his tenure as Monmouth's president. Davlin read a formal resolution passed by the Board of Directors of the National Association of Wabash Men at its May meeting.
The highlight of the luncheon was when theater professor Dwight Watson, chairman of Division II, re-read the resolution he read into the faculty minutes at the final faculty meeting of the year. Watson's resolution follows:
"The Ceiba tree, native throughout the American tropics, Central and South America, and West Africa, is known for its complex biological interactions, its majestic canopy, the focal point, or gathering place for community activities, human and otherwise. To the ancient Mayans it was thought that the Ceiba tree stood at the center of the earth, connecting the terrestrial world to the spirit-world above.
"There must be a Ceiba tree, or more accurately, an old oak, hickory, or maple, in Parke County, Indiana. A tree spared by a farmer and now surrounded by acres of corn recently planted. The base of the tree becomes a resting place, offering momentary shade, the ground on which lunch is served and conversations take place. One can easily imagine a young Mauri Ditzler beneath this tree not resting like some recalcitrant Huck Finn smoking rabbit tobacco, no; more like a character from a Kurt Vonnegut novel, energetically fingering twine into a cat's cradle, who becomes suddenly mindful of time and place, gleeful and inquisitive about the world and beyond.
"If you were to pause for a moment, (say, six years in Vonnegut time—or the six years of Mauri's tenure at Wabash), beneath the tree with Mauri, eventually, inevitably, he would quote the writer: "Time is liquid," he would say with a certain friendly authority that one associates with this analytical chemist, this college dean, soon to be president. "Time is liquid. One moment is no more important than any other and all moments quickly run away." (Bluebeard) So, then, in a instance, Mauri moves away from the tree, the farm, Rosedale High, Parke County, Wabash, Duke, Holy Cross, and Millikin. Luckily, for us, there was a bend in time between 1999 and 2005 that brought him closer to home, back to Wabash. It seemed complete.
"Even today it is easy to imagine Mauri standing before his peers, the graduating Class of 1975 delivering the Wabash commencement address. He is grinning. Thirty years later, tomorrow, he will talk to our graduating seniors at the Dean's breakfast. It will not be an easy speech for him to deliver, and it is doubtful that our seniors will completely comprehend the significance, the irony of his parting words. But you and I know that he will stand before them as a superb example of what a son of Wabash, Dean of the College, can and should be—open and flexible, dedicated and supportive, energetic and innovative—an individual who loves this college and even more the promise of higher education that can occur here and beyond.
"My division chair colleagues meet frequently with Mauri. Actually, it seems everyone meets with Mauri. Melissa, David, and I are often the beneficiaries of some of Mauri's best moments. For example, we know that he has a great capacity for talking at length on almost any topic. "I recall one of our meetings," David reminds me, "when Mauri was telling us about his meeting with one of our job candidates or maybe it was an alum, anyway, Mauri complained that the individual was quite a talker and that he couldn't get a word in edge wise." Without thinking David said, "Someone out-talking you is really saying something, Mauri." It is one of the few times we saw our dean blush.
"As you may know, Mauri was involved in hiring roughly 40% of the current faculty; this means, of course, that he may have attended 150 candidate presentations over the past few years. Rarely, did a presentation slip by (even when the rest of us were numb to the topic or delivery), when Mauri's hand didn't go up. He always had a question…and then a follow-up. The art of teaching, the act of learning, support for close faculty and student relations are confluent in Mauri's educational vision. And when he says, as he often does, "We have hired a remarkable number of very talented, young faculty members. And Wabash has a very bright future," he speaks not only as our chief academic officer but as one who respects you and your classroom.
"President Ford's words about Mauri deserve repeating: "In his six years as Dean of the College, he has had an extraordinary impact on every aspect of life here. His unfailing optimism, good humor, wise judgment, and boundless energy have made a difference in everything we do."
"The college is about complex interactions and to be a good dean is to find meaning in all of that complexity. It is a rare dean who shares enjoyment and a sense of wonder in the canopy of college life. Perhaps it's because Mauri is always willing to entertain any idea. It seems his first instinct is to say, "Yes." And if he likes the idea he will go to almost any length to make it happen, including some creative budgeting. We recall his delight in telling us how he could finance a project by cobbling (legally, of course) together funds from different budgets to help a faculty member's idea become a reality. We remember his visit to Quito, returning with so much enthusiasm for the Ecuador program that it seemed entirely possible to him that, "Wabash might charter a jumbo jet and fly the entire student body (or, at least the sophomore class) down there for a learning experience." For someone like me, whose field is the manipulation of the imagination, I often stand humble in Mauri's creative presence.
"Wabash was indeed fortunate to have a dean of Mauri's remarkable abilities. Who else could convince the faculty, in Melissa's words, to sign on to the Lilly "corn maze" grant? Assuredly, his many cultivated talents will serve him well in the future.
"You, too, have your stories about Mauri, real or imagined: a farm boy, a professor, dean, colleague and friend. Maybe you have schemed with him to initiate one project or another. He would not want those ideas to disappear with his departure. He would not want you to hold back. For me, I will always look for that well-worn hand that darts up at the end of the presentation, eager to ask the first question."
— Dwight Watson
Photos
Top: Judith and Mauri Ditzler