Wabash Faculty on the Road
by Michael Warren • June 9, 2005

Share: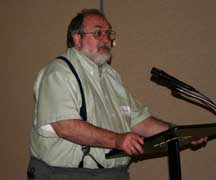 During the month of May Wabash alumni in Indianapolis and Merrillville had the pleasure of meeting two of members of the highly regarded Religion department faculty at separate Wabash on the Road events. Both took topics from their respective Freshman tutorials that they just finished teaching during the spring semester.

First, on May 12 the downtown law office of Barnes & Thornburg hosted Dr. Robert Royalty for the event in Indianapolis. Dr. Royalty and nearly 50 alumni, friends, and family discussed the writings (and forging) of the earliest Christian gospels. Special thanks to Paul Jefferson '92 and Tim Oliver '91 for handling the details for the evening.

A couple weeks later alumni in Northwest Indiana were treated to an evening discussing the world famous architect Frank Lloyd Wright with Dr. David Blix '70. Shawn Cox '94 arranged a wonderful evening at Avalon Manor in Merrillville. Thanks to Shawn for handling all the details.