Wabash Alum was 'Deep Throat' Colleague
by Howard W. Hewitt • June 1, 2005

Share:
The unveiling of one of politics and journalism's best-kept secrets - the identity of 'Deep Throat' - hit close to home for one Wabash College staff member.
W. Mark Felt, who was the number-two man at the FBI during Watergate, admitted he was the shadowy government source who provided deep background to Washington Post reporters Bob Woodward and Carl Bernstein. The reporters' investigation and the resulting cover up led to the Aug. 8 resignation of President Richard Nixon.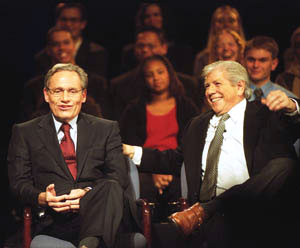 Cal Black '66, Director of Major Gifts for Wabash College, was an FBI special agent in San Francisco during the Watergate investigation. He knew Mark Felt.
"It really does not surprise me," Black said. "Through the years agents would talk about this, who it might be, and Mark's name came up. It's a real bittersweet type of story to read."
Black said understanding the context surrounding Felt's cooperation with the young reporters is essential. "When Mr. (J. Edgar) Hoover was alive, politics wasn't a part of the FBI. My sense of what Felt probably was thinking was that he didn't like Nixon or some of Nixon's associates trying to manipulate the Bureau."


Some have said Felt may have acted from bitterness when passed over for the top spot when Hoover died in May 1972. Nixon appointed Patrick Gray as acting director. Felt was integral in several portions of the ongoing Watergate investigation, which leads Black to believe he was receiving political pressure to alter his reports.
"People have to understand how fiercely loyal everyone was to doing the right thing back then," Black said. "He probably looked at it and felt like the Bureau was being abused and he wasn't going to take it."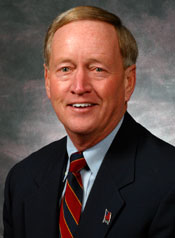 Felt wrote about the pressure in his 1979 memoir, The FBI Pyramid . "From the very beginning, it was obvious to the Bureau that a cover-up was in progress," Felt wrote.
Black explained even though the FBI has been accused of overstepping its bounds through the years, he never saw any impropriety prior to his leaving the bureau in 1983. "They wanted people of integrity, and to see politics become involved in law enforcement was very difficult. Mark clearly didn't like that. I think that's why Felt did it (talk to reporters). His mindset might have been: 'We're law enforcement and don't mix any dirt or pollution into that now.' "
While politicians on both sides of the aisle paint Felt as hero or villain mostly along party lines, Black insists the line isn't so clear.
"There was sort of an unwritten oath when you went into the FBI that when you left you didn't write a book or anything. Does this violate that? Probably. But since Mr. Hoover died, many guys have done that.
"Would I have done it? No. But I do think he tried to defend what the Bureau was all about. For that, I think he stood pretty tall.
"But there are two sides of every story and there will be guys (former agents) on both sides of this. I have mixed emotions; it's just not that clear to me."
Hewitt is Wabash College's Director of New Media/Web Editor.
In photos:
Above right: Woodward and Bernstein were questioned for three decades about Deep Throat's identity.
Lower left: Cal Black