Students Visit Museums, Library to Research State History
by Howard W. Hewitt • May 26, 2005

Share:
Wabash College students researching presentations on Indiana's quality of life spent Wednesday in Indianapolis learning about resources they can use to tell outsiders about the Hoosier state.
Eleven Wabash students have summer internships as part of a $1 million Lilly Endowment grant. The funds were awarded under Lilly's Initiative to Recruit and Retain Intellectual Capital for Indiana Higher Education Institutions.
The Wabash Project, Quality of Life in Indiana, includes student-faculty trips to educational and cultural spots throughout the state and this research project. The summer internships are known as the Present Indiana portion of the project.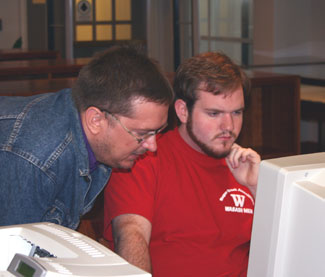 The 11 students have selected topics to study and will make presentations to new faculty/staff and international students this fall.
Wednesday the men visited the Indiana Historical Society, State Library and Indiana State Museum.
"This was kind of a first stab at going to the historical resources available here in Indianapolis so that they could see where they might want to go back to later on," said David Clapp, director of off-campus studies and international students. "I didn't feel like we would accomplish anything definitive but several guys have found things they need to go back for. So this is a first step."
Clapp is leading the summer internship project with assistance from Librarian Larry Frye and reference librarian Jeff Beck.
Several of the students got membership cards at the state's new Historical Society, checked available resources at the State Library then toured the Museum.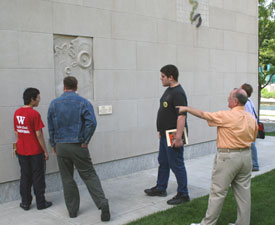 "The historical society had a lot of older documents that I didn't find at the Wabash Library," said Jeremy Sexton'07. "They had hand-written documents and old maps."
Sexton is doing his project on the utopian experiment at New Harmony, near Evansville.
Sexton, an English major, was surprised by the depth of the materials available. "Absolutely, and they were pretty friendly letting you have stuff and helping you get it," he said.
That scenario was what Clapp, Frye and Beck had in mind when they scheduled the trip.
"Only a few of them really knew (about the resources). because they had been here before," Clapp said. "For most of them this was a new experience. It hasn't been a waste of time. We're only etching the tip of the iceberg on what's available."
The students spent their first two weeks narrowing the focus of their projects. The range of topics include comedy, classic theaters, Hoosier inventors, food and festivals, Indiana basketball and the state's limestone industry.
Hewitt is Wabash College's Director of New Media/Web Editor.
In Photos:
Top right: Jeff Beck assists Tom Elliott '08 at the Indiana Historical Society Reference Library.
Lower left: Larry Frye talks with a group of students about Indiana limestone on the side of the state museum. There are carvings around the building representing each of Indiana's 92 counties.