Faculty Will Write, Travel This Summer
by Jim Amidon • May 9, 2005

Share:
It's all over but the tears and memories.
The 2004-2005 school year at Wabash College is now, officially, in the books. Sunday about 175 men will earn their sheepskin diplomas as graduates of the College and head off to begin their lives in graduate and professional schools and the workplace.
Underclassmen are long since gone. When finals ended Friday, there was a mass exodus of the last remaining underclassmen and now, mercifully, we are again blessed with ample parking around the campus.
Before the students left, we sent out some mass email notes to find out how many of them will spend their summer. The list was fascinating and included research internships from coast to coast, internships with firms like Saks Fifth Avenue, and the typical lawn mowing summer jobs.
You can check out the full story on the College's web site: www.wabash.edu
Once we pinned down the summer plans of our students, we decided to ask our faculty how they plan to spend the summer.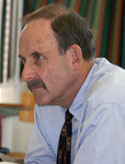 English professor Tobey Herzog will travel to Chicago, Norwalk CT, Tallahassee FL, and Austin TX to interview Vietnam soldier-authors Larry Heinemann, Philip Caputo, Robert Olen Butler, and Tim O'Brien)for a book he is writing. Tobey, a Vietnam veteran, has already written a book about O'Brien, and Butler, a Pulitzer Prize winner, was on campus last year.
First-year German professor Brian Tucker will travel with his colleague John Brynes on an immersion learning trip to Berlin. Tucker will stick around after the students return to the States, and will research 19th century German author Theodor Fontane. He'll also participate in a summer seminar sponsored by the National Endowment for the Humanities.
Theater professor Jim Fisher will deliver the commencement address at Mitchell College on May 13, then work with student intern Braden Pemberton to write half of the forthcoming "Historical Dictionary of American Theater: Modernism, 1880-1930." He's also been commissioned by the University of South Carolina Press to do another volume on playwright Tony Kushner.
Math professors J.D. Phillips, Mike Axtell, and Will Turner will host the first Wabash Summer Institute in Algebra. Thanks to a nifty grant from the National Science Foundation, our faculty will host 12 students from all over the country for intense mathematics research and discussion.
Turner will complete that before he heads to Beijing, where he will present a paper at the
International Symposium on Symbolic and Algebraic Computation.
History professor Rick Warner will be writing a book on the Cora Indians, write some book reviews, and will once again be involved in grading World History AP essays. Then, later in the summer, he'll travel to Morocco to present a paper on African history at the World History Association conference.
Fellow historian Michelle Rhoades, who spent spring break in Paris with her history students, will be working to finish her book, "The French in Love and War: Prostitution, Masculinity, and Disease."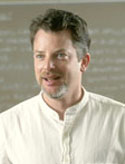 Rhoads and Warner will also collaborate with Steve Morillo and Jon Aden on a new world history textbook. Professor Morillo, on research leave next fall, will also be working on two other books on military history and the "warrior elites" in world history.
Math professor Chad Westphal will be a visiting scholar at the Lawrence Livermore National Laboratory, then spend the rest of his summer collaborating with colleagues at Purdue and Colorado on (yikes!) "least-squares finite element methods for problems from continuum mechanics." (Note to readers: I don't know what that means, either.)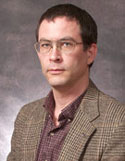 Religion professor Stephen Webb isn't content to write just one book; he's working on three different books this summer. He'll also attend the Christian Scholars Conference at Pepperdine University in Malibu, where a panel will be devoted to his last book, "The Divine Voice."
English professor Tom Campbell has spent the year in Tokyo, where he has been involved with the GLCA/ACM Japan Study Program. Once the students leave, Tom and his family will spend a month touring the country.
Art professor Greg Huebner wrote that he'd be spending five days a week in the comforts of his studio in the Stutz Building in Indianapolis.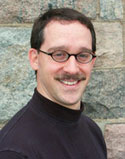 First-year music professor Peter Hulen has been commissioned to write new compositions in choral music and for the Quartet New Generation, a recorder-playing quartet, which will perform at Wabash next year.
All in all it will be a busy and exciting summer for the faculty. This is by no means and exhaustive list, but just an opportunity to demonstrate how our teachers spend their summers.
As for me? I've got nothing planned that is nearly as exciting as trips to Beijing or trips through Japan or Malibu. Mostly just gardening, some water skiing, and prepping for next year.
Amidon is Wabash College Director of Public Affairs and the College Secretary. He writes a weekly column for the Crawfordsville Journal Review. This column appeared May. 9.
In photos: Top to bottom - Herzog, Morillo, Webb, Hulen.