Senior Reflects on His Growth at Wabash
by Brittney Dick • May 5, 2005

Share:
For Wabash College senior Mark Dietzen, it doesn't matter whether he's at school in Montgomery County, at home in Illinois or spending a semester in Germany. He cares about the community. And whatever that community may be, he still remembers his family.
"When people ask me about who I am, the first thing that comes to mind is my family," Dietzen said. In fact, he has a picture of his grandfather hanging above his desk for inspiration. Dietzen explained his grandfather, now deceased, carried heavy loads up and down flights of stairs for his job in the ice and coal business.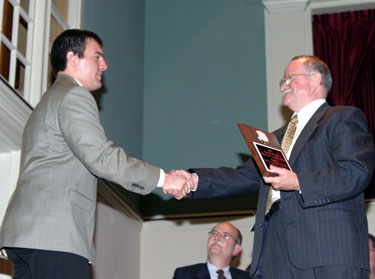 "No matter how hard it is, I see that picture and think, 'that's not as hard as what he had to do,'" Dietzen said.
Given his attitude, it's no surprise Dietzen appreciated the work ethic of his Wabash professors. Those who know him think highly of him, such as Jim Amidon, Director of Public Affairs and Marketing, who serves on a committee with Dietzen.
"At Wabash, we refer to all of our students as 'Wabash men' or 'gentlemen.' But I think you'd be hard pressed to find anyone who more embodies the spirit of the Wabash gentleman than Mark Dietzen. He is polite, responsible and cares more for others than himself. He's a great example of the college's mission — to educate men to think critically, act responsibly, lead effectively and live humanely," Amidon said.
His advisor, Dr. Richard Warner also shared words of praise.
"He's the kind of guy you'd like your daughter to bring home to dinner," Warner said, adding that he has a daughter.
Warner has seen Dietzen make tough decisions.
"I think he's learned ... life is a series of choices. Sometimes they're very different. He's interested in a lot of different things. He needed to figure out how to balance all those. Sometimes that meant making tough decisions, like moving on during his wrestling career," Warner said.
In his own humble way, Dietzen explained how he matured at Wabash, especially while he was debating pledging to two different fraternities. For Dietzen, frats weren't about partying, they were about growing and stretching himself. Alpha Phi Omega is a service fraternity, and Theta Delta Chi is known as the house for leaders. He was already a leader — captain of the wrestling team. He thoroughly enjoyed the sport but knew continuing would mean he couldn't spend the semester abroad. He also worried about disappointing the rest of the team.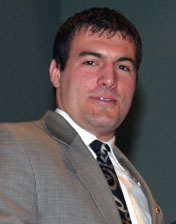 "I really realized that as much as I like wrestling, there is more to life than wrestling and more to me," Dietzen said in retrospect. Yet all along, he'd made time for others. Take the Sphinx Club for example. It's the school's leadership and spirit organization.
Sphinx Club President A.J. Lyman said Dietzen took a fairly unpopular job and turned the club into a highly philanthropic force.
"His is a life truly dedicated to the service of others and the betterment of his community. Mark has energized the members of the Sphinx Club, his living unit and the Wabash Community as a whole to branch out and think of new and creative ways to help serve our community," Lyman said.
Dietzen plans on joining the Peace Corps after graduation in mid May.

Dick is a reporter for the Crawfordsville Journal Review. This story first appeared in that newspaper April 30.
In photos:
At top: Dietzen is presented college's Community Service Award by College librarian Larry Frye. He also was presented the Senior Award of Merit for scholarship, service, and extracurricular activities.