John N. Fox, Jr. Elected to Board of VASCO Data Security International, Inc.
by Karen Handley • May 4, 2005

Share:
John N. Fox, Jr. '64 has been elected to VASCO Board of Directors. VASCO is a global provider of enterprise-wide security products that support e-business and e-commerce.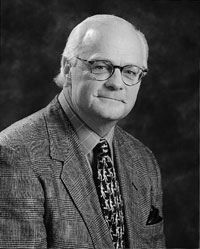 Fox was Vice Chairman and Global Director, Strategic Clients, Deloitte Consulting, a $3.4 billion global consultancy within Deloitte Touche Tohmatsu, a $16.4 billion professional services firm (led teams, including more than 200 partners, serving the firm's 60 largest global clients). Fox served on Deloitte Touche Tohmatsu's Board of Directors and a member of the Governance (Executive) Committee from 1998 – 2003.
In his 36 years with Deloitte, Fox consulted with Fortune 1000 companies, helping its clients tackle big complex changes, including appropriate strategic initiatives, new business models, revised business processes and organizational change.
Fox received his Bachelor of Arts in political science at Wabash College, where he was involved in football and the Wabash Glee Club. He earned his MBA from the University of Michigan in 1968.
"We are very pleased to have John join VASCO's Board of Directors," stated T. Kendall Hunt, VASCO's Chairman & CEO. "His global consulting experience will serve the company well as it considers its strategic alternatives for future growth, and anticipates the needs of its global clients. Additionally, John's former board and Governance Committee experience will help guide VASCO in its adherence to proper governance and management."
"I am very excited to be associated with a company that is focused on the high-growth information security industry," Fox said. Identity theft is a significant and growing problem. VASCO's products and solutions to address this issue are driving its rapid global growth. I look forward to working with the management team and Board of VASCO as they plan for and manage their future growth."