Students Study Culture, Create Art with Ancient Methods
by Howard W. Hewitt • May 4, 2005

Share: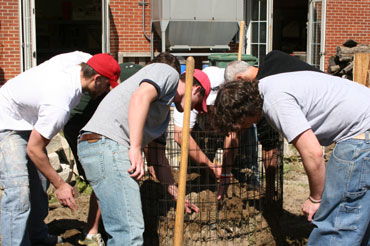 Wabash College students enrolled in Art 123 this spring studied ancient cultures and primitive ways to create the useful tools that now double as art. (Click on photo album at bottom of page.)
The class culminated May 3 with a primitive firing of ceramics created by the class. A handful of Professor Doug Calisch's class waited 21 hours to dig their creations from beneath the kindling and fuels to see if the primitive process worked.
"The study of ceramics is both the study of aesthetic design and function," Calisch explained. "In order to understand the relationship of the two, each student researches a culture from North, Central, or South America in order to determine the extent to which design, ritual, firing techniques, and function are related in a particular culture."
Over the past weeks the students researched a primitive native culture and used their research to mimic various ceramic works native to the culture of their interest.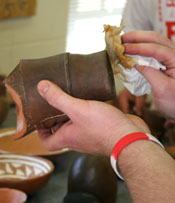 The primitive firing of the works was the culmination of the of study.

"We simulate a primitive firing technique complete with indigenous fuels (cow patties) and try to achieve the results of the chosen cultures. It's a humbling experience."

Uncovering one of the fire pits Wednesday morning was perhaps a disappointing experience for some of the young artists. Perhaps a third of more of the works were damaged and broken during the overnight firing.

The primitive firing technique has been used in many cultures, Calisch explained. The practice is still used in some areas today.

Hewitt is Wabash College's Director of New Media/Web Editor.

In photos:

At top right: Students prepare to remove the burnt ashes and dung which fired their ceramic creations.

Lower left: Patrick Beyemer puts a wax coat on his ceramic cup, which suffered some damage in the firing process.

The photos taken before the pottery was fired courtesy of Doug Calisch




For more information see: