WPAWCM 2005 Man of the Year - Tobey Herzog
by Michael Warren • April 25, 2005

Share: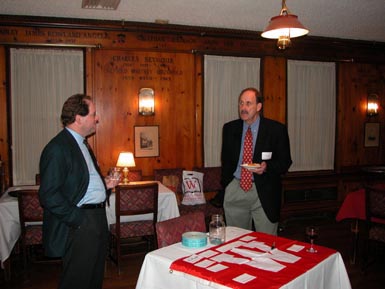 The Western Pennsylvania Association of Wabash College Men honored Dr. Tobey Herzog with the WPAWCM Man of the Year award at its annual spring dinner on Friday, April 22, 2005. Several alumni and friends gathered at the Allegheny HYP Club for what was the Thirtieth Annual Dinner for the Western Pennsylvania alumni.

Following a delicious dinner and delightful dinner conversation Lyndall Huggler '83, current President of the Western Pennsylvania Association of Wabash College Men, welcomed all of those in attendance and introduced the guests from the College. He then turned the podium over to Robert Smith '66 for Man of the Year introduction. Dr. Herzog graciously accepted the honor and spoke to the audience about "Our" Wabash.

The evening was enjoyed by all, including the surprised winners of the raffle prizes. Special thanks to Lyndall Huggler for handling all the local organization and emcee duties.

Keep watch for details on upcoming summer events for the WPAWCM.