Harbaugh to Screen Film Again May 3
by Jim Amidon • April 22, 2005

Share:
Russ Harbaugh '06 has quarterbacked the Wabash football team for the last two years. In that role, he is often seen as the consummate cheerleader for everything Wabash — the "guts, brains, spirit, and strength" it takes to be the man who leads the football team to victory at Little Giant Stadium.
He laughs when he says, "I became popular and liked only because of the thing I could do with a ball."
But there's another side to Harbaugh, a side that questions Wabash's notions of masculinity and even Wabash's status as a college for men.
He discovered that side after his twin brother, Barry, transferred from Wabash to the University of Evansville. After football season in his sophomore year, Russ found himself leaving Wabash every Friday to spend weekends with Barry and a new cadre of close, personal friends — most of whom were women.
Leaving Wabash allowed him to escape his typecast identity as a single-minded quarterback. He enjoyed bonding with women who cared less about football and wanted to talk politics and literature.
"At Evansville, football never even came up," he said with a smile. "And that was empowering."
So much so that Harbaugh approached Wabash professors Warren Rosenberg and Michael Abbott about an independent study project that would allow him to look deeply into Wabash's history as a college for men, question it, and at once work through his own personal frustrations.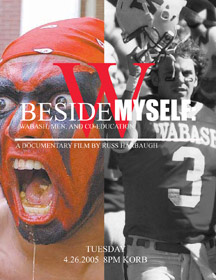 The result is a documentary film, which will be re-shown Tuesday, May 3 at 4:30 p.m. in Salter Hall of the Fine Arts Center. Titled 'Beside Myself: Wabash Men and Coeducation,' the film is "the most involved, productive experience I've ever had," he said.
He screened the film to a packed house of Wabash students, faculty, staff, and alumni last Tuesday night. More than 300 viewers attended the event, many of whom were forced to stand, prompting Harbaugh to show the film again May 3.
Harbaugh says the environment at Wabash keeps people, issues, and ideas in boxes. As he commuted to Evansville to visit his twin, he grew more and more unhappy at Wabash. But he soon discovered that the balance he was achieving away from campus brought focus to his academic and athletic work at Wabash. "That balance made everything better, and I enjoyed football more than ever before," he said while still editing the final clips for the film in the College's media center.
"I think most Wabash guys have these constantly mixed emotions about being here, and those emotions are what drive this project. There is this hypermasculine identity of the students, who outwardly love Wabash as a single-sex school, but who inside probably feel like I do about it.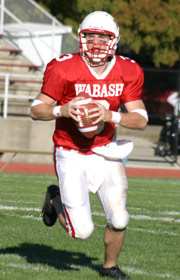 "I feel like I'm doing something with this film that matters to a lot of people, and using my role as a football player to spark the discussion. We're sitting on a laboratory for masculine studies here, so it's something we ought to talk about openly and honestly."
The film includes clips of everyday life at Wabash; interviews with student leaders, faculty, and staff; and Harbaugh's personal narration from beginning to end. He describes it as the "history of Wabash and its struggle with coeducation" and "a visual memoir" of his experiences and frustrations at the College."
While still a bit nervous about how viewers will react to a film that questions — and in some cases criticizes — Wabash's very essence, it's easy to see how excited Harbaugh is as he completes the project. The film became the vehicle that allowed him to work through his pain and frustrations, and the result is a more healthy Harbaugh.
"As I grow and learn to balance myself more, I'm a happier person."
Amidon is Wabash College's Director of Public Affairs and College secretary.