Theater's This Is Our Youth Continues Tonight
by Karen Handley • April 18, 2005

Share: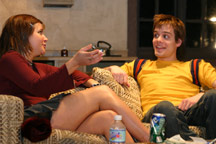 The Wabash College Theater Department will present its final theater production of the season, This Is Our Youth, which will run April 20-23 in the Experimental Theater in the Fine Arts Center. The performances are scheduled for 8 p.m. each evening. NOTE: This play contains adult language and situations. It may not be suitable for children.
Set on Manhattan's Upper West Side, This Is Our Youth follows 48 hours in the lives of three very lost young souls. Kenneth Lonergan's award-winning play is a lacerating, meticulous, and hilarious snapshot of the simmering moment between adolescence and adulthood.
The New York Times says this about This Is Our Youth, "In a season in which some of the wise men of the theater have been trying to force-feed insipid fare…to young audiences, it's sheer relief to celebrate the return of a rambunctious and witty play about wayward teenagers and post-adolescents that doesn't turn youthful travails into plastic rap—This Is Our Youth—by turns caustic, cruel, and compassionate—is the real real world."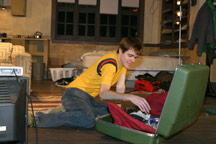 Directed by Michael Abbott, associate professor of theater at Wabash, the cast list includes: Andrew Dits as Dennis, Wesley Jacks as Warren; Naseema Muhommed as Jessica; and Donald Claxon serves as stage manager.
For tickets contact the Fine Arts Center Box Office by email at boxoffice@wabash.edu. Box Office hours are Monday through Friday, 8:30 a.m. to 12 noon and 1:30 to 4 p.m. The box office will open 90 minutes before curtain time for theater events. Tickets not claimed at the Box Office 10 minutes prior to curtain will be released to the general public.