Brigance Forum Lecture To Be Presented on Thursday
by Karen Handley • April 8, 2005

Share:
Wabash College invites you to hear, David Zarefsky give the 2005 Brigance Forum on Thursday, April 14, at 8 p.m. in Salter Hall in the Fine Arts Center. The title of his talk is "Two Faces of Democratic Rhetoric." Zarefsky's lecture will kick off a three day conference at Wabash, hosted by the Center of Inquiry, "Rhetoric and Democratic Citizenship: A Colloquy in Honor of W. Norwood Brigance."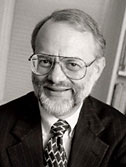 Zarefsky is Owen L. Coon Professor of Argumentation and Debate, and Professor of Communication Studies, at Northwestern University, where he served as Dean of the School of Speech from 1988 through June 2000. He joined the Northwestern faculty in 1968 and rose through the ranks, becoming Professor in 1982. He also has held a series of administrative appointments, including Director of Forensics (1970-75), Chair of the Department of Communication Studies (1975-83), Associate Dean of the School of Speech (1983-88), and Dean.
Zarefsky's research and teaching are in the areas of rhetorical history and criticism, argumentation and debate, and forensics. He is the author, co-author, or editor of eight books and the author of over 50 articles in professional journals. Two of his books have won the Winans-Wichelns Award for Distinguished Scholarship in Rhetoric and Public Address, an award of the National Communication Association: President Johnson's War
on Poverty: Rhetoric and History (University of Alabama Press, 1986) and Lincoln, Douglas, and Slavery: In the Crucible of Public Debate (University of Chicago Press, 1990). He is one of only three individuals to have won this award twice. In 1994 he was named to the ranks of NCA Distinguished Scholars. He also has twice won the "Best Article Award" from the Southern States Communication Association.
The Brigance Forum is an annual public lecture or debate in memory of the late William Norwood Brigance, teacher, scholar and leader in the Speech Association of America. In his 38 years at Wabash College, "Briggie" taught generations of Wabash students how to be more effective when they spoke and, through his textbooks, he taught thousands more in American high schools and colleges. As editor of the pioneer History and Criticism of American Public Address and as editor of the Quarterly Journal of Speech, he gave direction to the scholarship of the field, and as President of the Speech Association of America, he guided the profession through the expansion of the postwar years. The Brigance family, friends, former students whom he taught, and those who continued the tradition of Speech at Wabash after him, have, through their contributions, endowed this program as an ongoing memorial to William Norwood Brigance.
His talk is free and open to the public.