Indonesian Dignitaries Visit Wabash, Crawfordsville
by Jim Amidon • March 28, 2005

Share: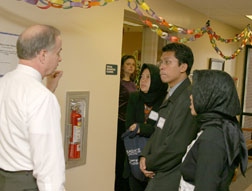 Two representatives from the Progressive Muslim movement in Jakarta, Indonesia, spent Easter Weekend at Wabash as part of a tour of the United States. They are studying religious pluralism in civil societies.
Eva Yuliana, Vice Treasurer of the Central Java National Awakening Party, and Zuhairi Bin Misrawi, a Program Officer of the Emancipatory Islamic Network, arrived at Wabash March 26, a three-day stop on a 21-day tour.
Yuliana and Bin Misrawi attended Easter Sunday worship services at First Christian Church in Crawfordsville, and later spent time with Wabash faculty families, Phil and Vina Mikesell and Larry and Nancy Bennett.
"I hope to teach my experience here to our society (in Indonesia) until we become better at democracy," Bin Misrawi said of his U.S. visit. "I think our democracy in Indonesia, which is just developing now, can learn more and more from the United States.
"I must learn more about the diversity here. There are similarities in our two countries. We have Muslim as a majority and you have Christians as a majority. We must learn how to support religious differences in society."
The scholars and their interpreter, Komariah Robinson, had a breakfast discussion with the staff of the Wabash Center for Teaching and Learning in Theology and Religion. They later met with Crawfordsville Schools Superintendent Kathy Steele. Dr. Steele discussed the separation of church and state as it applies to public schools, and specifically talked about the seventh grade unit of the curriculum that carefully studies all religions with field trips to synagogues, mosques, and various Christian churches.
The group was led on a tour of Hose Elementary School by Principal John Tidd, whose school is home to classrooms of special needs children as well as the school corporation's gifted and talented track. Tidd, co-chair of the Character Counts! program in Montgomery County, discussed character- and values-based education in public schools.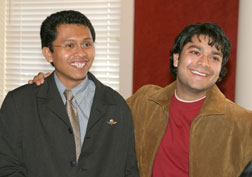 Bin Misrawi is the founder of the Institute of Progressive Islamic Studies and an award-winning journalist and best-selling author on the subject of Progressive Muslim studies.
"The difference between Fundamentalist and Progressive Islam is that fundamentalists do not take into account modernity," he said. "Progressive Islam is more concerned with understanding Islamic Law in today's world."
Bin Misrawi, who has a daily radio talk show in Jakarta, is the author of four books: Beginning from Home; Al-Quran is Not a History Book, Interpretation of Islamic Law/FIKIH, and Islam and Arts.
His traveling companion, Eva Yuliana, is a former member of parliament and served as General Secretary of the Central Java Board of Women's Association for the National Awakening Movement. She is one of the nation's leading authorities on the empowerment of women and children in Indonesia.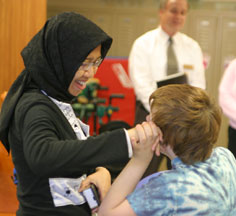 Hose Elementary students were excited to meet natives of Indonesia after studying the region and raising nearly $1500 for disaster relief efforts after the December earthquake and tsunami. The students created a colorful chain of paper loops for every quarter they raised for disaster relief. The chain stretches around the school nearly two full times. Bin Misrawi explained to the students in Nancy Kirtley's fourth grade class that an estimated 250,000 people died on his home island in the tragedy.

The dignitaries led a discussion late in the day with Wabash faculty and students on the topic "How civil societies protect and encourage expressions of religion and the rights of religious groups."

After that discussion, Bin Misrawi expressed his appreciation for U.S. universities. "I find the research very wonderful," he said. "America is very established with universities. In Indonesia, we need to be more and more engaged with our universities (to do research)."

Arriving in the U.S. on March 11, Yuliana and Bin Misrawi spent time in Washington, where they met with Department of Education and State Department officials; Boston, where they met with Harvard faculty; Providence, Rhode Island; and Indianapolis before arriving in Crawfordsville. They will conclude their trip with stops in Portland, Oregon and Los Angeles before departing on April 5.

In photos:

Top: Hose Elementary School principal John Tidd explains how every colored ring indicates the donation of 25 cents toward tsunami relief in Southeast Asia. Hose students donated almost $1,500 to disaster relief.

Upper Left: Zhuairi Bin Misrawi poses for a photograph with Wabash student Ali Ahmed.

Lower right: Eva Yuliana shares a moment with a Hose Elementary student.




For more information see: