Tim Flowers '06 Wins Prestigious Truman Scholarship
by Howard W. Hewitt • March 21, 2005

Share:
Wabash College junior Tim Flowers didn't think he had a "snowball's chance in hell" at winning a prestigious Truman Scholarship when he returned from his Oxford, England, interview over spring break.
As a matter of fact, he used those exact words when his mother met him at the airport. Tim's mom reminded him to never say never.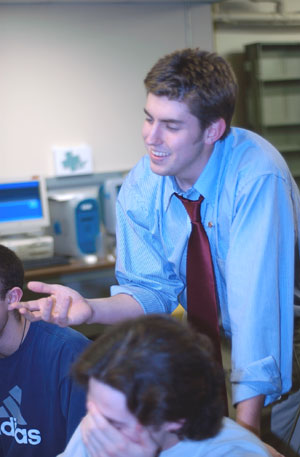 Flowers was stunned when Wabash College President Andy Ford told him March 21 he was one of 70-75 college juniors nationwide selected for the honor.
"President Ford e-mailed me early this morning saying that I needed to come see him," Flowers explained. "I thought, 'Oh no, what did I write in the Bachelor this time that offended someone?'
"I almost fainted. I was absolutely floored and humbled. When President Ford told me he just got this big grin and my head felt like it was 30 times what it already is."
Nearly 700 college juniors apply for the Truman Scholarship each year. The Foundation seeks to find and recognize college juniors with exceptional leadership potential who are committed to careers in government, the nonprofit or advocacy sectors, education, or elsewhere in public service. The scholarship provides financial support for graduate study, leadership training, and fellowship with other students who are committed to making a difference through public service.
Wabash College Professor of Political Science Phillip Mikesell said the Truman Scholarship quickly gained the attention of academic institutions after it began competitions in 1978.
"It doesn't yet have the cachet of a Rhodes, but it's quickly coming to parity with Woodrow Wilson's Scholarship, I think," Mikesell said. "Not only does a Truman Scholar have some real money to take with him or her to a graduate program, the selection as a Truman Scholar will put him or her into company that will, by itself, promote opportunities."
Mikesell added that Wabash College has had Truman Scholars before. The first Wabash man to receive the prestigious honor was Phil Purcell '81.
Flowers will travel to Kansas City during the summer for a week of community service and leadership training with other Truman Scholars. He receives a small stipend toward costs during his senior year at Wabash, an all-expenses paid summer internship following graduation in Washington D.C., and $30,000 toward graduate school.
The leadership training and summer internship have Flowers thrilled.
"I'm looking at places like the American World Development Council, Senator Russ Feingold's office, or maybe something like the CIA to mix it up a little bit," Flowers said of his 2006 summer options.
As high as Flowers felt when he learned the news, he left England thinking the whole trip was for naught.
"When I flew out of London, my head was pretty low," Flowers admitted. "I didn't think I had blown it, but I thought I wasn't what they were looking for. I was confident in my interview and very proud of how I conducted myself. But I just didn't feel right because I was in an environment where everyone else had studied overseas and everyone else had so much experience working in foreign environments."
Flowers, a French major, opted out of overseas study to be editor of The Bachelor, Wabash College's student newspaper.
Andrew Schlewitz, a visiting Assistant Professor of Political Science, helped Flowers craft his scholarship application. He was equally thrilled with the news.
"We've had good candidates in past years, but the stars were right this time for Wabash, not to mention that Tim worked very hard on what was already an arduous application. He crafted a lively policy proposal concerning planning and zoning in rural Indiana and defended it well under cross-examination.
"I can't tell you how pleased I am for Tim."
The folks back home in Cicero, Indiana, were beaming when the news reached Hamilton Heights High School.
"I couldn't be more proud of him, he's very deserving," said Stan Renner, U.S. History teacher. Flowers called Renner his mentor in high school.
In addition to being a very considerate person, Renner said Flowers has always gone the extra mile and has always been someone who is interested in school, education and politics.
"In my 37 years of teaching, he's one of my standouts," Renner said.
Flowers was exhausted when hearing the news. He had spent a weekend worrying about his Lambda Chi Alpha little brother.
"I had just returned from a weekend that I had spent at the hospital with my pledge son (who had fallen ill)," Flowers explained. "He kept telling his parents and relatives all weekend that I was a Truman Scholar and I kept telling him not yet.
"Apparently he knew something I didn't."
Flowers said there were many individuals to thank. Wabash College professors and staff wrote letters of recommendation and helped him with the application.
"Everyone at Wabash has been so supportive throughout the process, and I will be forever grateful to everyone for that," he said. "The award is based on the promise to continue leading throughout one's lifetime. I'm happy the interview panel recognized Wabash's ability to nurture world leaders.
"Now I will take my award to law school and continue to lead with the principles Wabash has taught me."
Hewitt is Wabash College's Director of New Media and Web Content Editor.
For more information see: