More Than 300 Participate in Honor Scholarship Weekend
• March 14, 2005

Share:
More than 300 prospective students arrived Friday for the 112th annual Honor Scholarship Weekend.
Dean of Admissions Steve Klein's staff welcomed the high school seniors for the weekend on campus. The campus visitors took a series of merit-based exams, attended sporting events, learned about campus organizations, and participated in fraternity rush activities.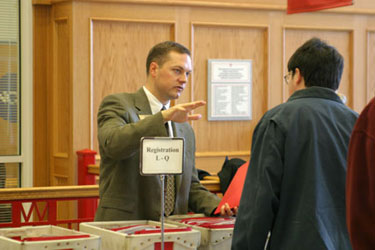 It was, without a doubt, the biggest, most important event on the annual Wabash calendar.
It is the time when high school seniors decide once and for all if Wabash is the right place for them. Dean Klein and his staff have worked hard to scour the state, Midwest, and country in search of the best and brightest young men for the Class of 2009. About 1,300 men applied for admission. A little over 630 were accepted and just over 300 men came for Honors weekend. About 250 men will enroll at Wabash next fall.
There's a lot at stake for Wabash this year and every Honor Scholarship Weekend.
"We want them to see the Wabash we see; we want them to feel the same pride, tradition, and sense of community we experience every day we're on campus," says Jim Amidon, director of public affairs.
In addition to taking competitive examinations in a variety of subjects, the high school seniors spent a great deal of time at the academic interest sessions each academic department offers. The seminars are designed to give them a true sense of what they will learn while they are on campus.
The relationship bonds between faculty and students on this campus rival those of any great college in the country. In many ways, the first handshake and first meaningful conversation a student might have with a member of our faculty often take place in those academic interest sessions.
The faculty talked with the students about the curriculum and programs' strengths; they discussed off-campus study, immersion learning, and internship programs that augment the curriculum; and introduce them to a community of learners and teachers who genuinely care about one another.
In Photo:
Senior Assistant Director of Admissions Chip Timmons welcomes an Honor Scholar participant.