Jim Graham Externships Far Exceed Expectations
by Tom Runge • March 13, 2005

Share: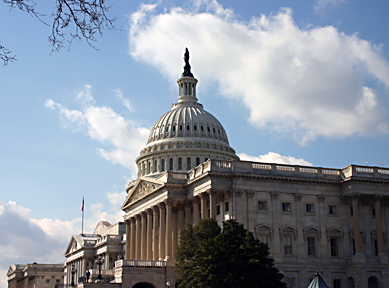 The Jim Graham '65 Externship program, named for one of the original organizers of the Washington regional association, was an unqualified success. The program, a collaborative effort between The National Capital Association of Wabash Men and the Schroeder Career Center team, exceeded everyone's expectation.
Six Wabash students participated in the program in Washington over spring break. After work, the students stayed at the homes of David Pancost '69 and Hayden Wetzel '72. The externs and their sponsors were:
Jonathan Dilley '03 hosted Ben Gonzalez '07 in the Office of the Congressman Dan Burton. Ben spent part of his time discussing international politics with the Chilean ambassador to the US…speaking in Spanish!
Bob Armstrong '74 hosted Luke Lukasil '06 and Clay Conner '06 at the National Defense University. Luke participated in some very high-level policy discussions concerning technology and its use in biological and chemical warfare. Clay had the opportunity to visit a couple of Defense laboratories doing state of the art work.
George Patton '84 and Bert Salinas '97 co-hosted Paul Stolarczuk '06 and Dunmomi Owolabi '06 at their respective law firms. They spent a couple of days serving as law clerks on a class action suit involving over 800 clients.
Ambassador George Jones '55 hosted Ben Nguyen Tang Le '06 at the consulting firm of Development Associates, Inc. Ben worked on evaluation systems for measuring the success of international programs funded by the US government.
To finish off the week, Jane and Greg Castanias '87 hosted the local group for a dinner at their beautiful home in Oaktown, Virginia, a DC suburb. Mike Santens, a close family friend of Jim and Lani Graham, told the group how excited Jim was about the upcoming externship program. Mike visited Jim and Lani Graham the day before Jim passed away. Mike told the group he now understood Jim's unabashed love of Wabash as he remarked about the close nature of the Wabash community.
Many thanks go to the National Capital Association of Wabash Men, especially to the alumni who hosted our young men at work and at home, and to Greg and Jane for a fun evening