Career Opportunities for Alumni and Students
by Tom Runge • March 1, 2005

Share: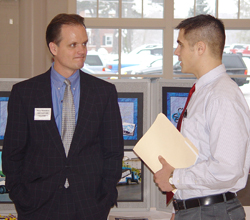 Are you looking for a new or different career opportunity? If so, make plans now to attend the Indiana Collegiate Job Fair on Thursday, March 31, 2005. This event, sponsored by IUPUI/PURDUE & IU. the event will be held at the Indianapolis Convention Center.
The fair runs from 10:00 AM to 3:00 PM and yes, it's open to alumni and students!
Attending organizations include: 1st Source Bank, Harvest Homes, IPS, Jasper Engines and Transmissions, U.S. Border Patrol, Nova Group of Japan (teach English in Japan), Indiana State Dept. of Health and IDEM, Simon Property Group, KMart Corp, Liberty Mutual Insurance, Noble of Indiana, CH Robinson Worldwide, Sherwin Williams, Duke Realty, Raytheon, AFLAC, H.H. Gregg, The CIA, Target Stores, Del Monte, Bio-Chrom Labs, Dayton Freight Lines, Enterprise Rent-a-Car, The Finish Line, and many more..
FOR A COMPLETE LIST AND REGISTRATION INFORMATION SEE: http://www.jobfairs.iupui.edu/icjf_cand.html