Wabash Senior: From Rice Paddies to National Championships
by Howard W. Hewitt • March 1, 2005

Share:
It's a strange path from child worker in Vietnam's rice paddies to qualifying for the national wrestling championships.
But Wabash senior Phu Hong, Indianapolis, may be on one of the more unlikely journeys this spring of any NCAA athlete. Hong will join Little Giant teammate Chris Healy this weekend at the NCAA Div. III wrestling championships at St. Olaf's College at Northfield, Minnesota.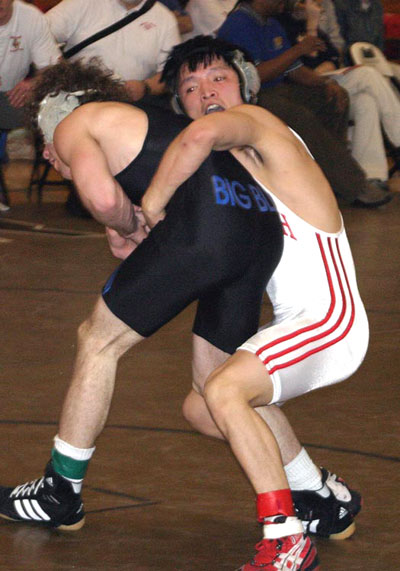 Hong, his three brothers, and parents left Vietnam in 1992 when Phu was an 11-year-old boy. This weekend the 24-year-old will compete in the 125-pound weight class for a possible national title.
The ever-smiling Hong shakes his head at the stark contrasts in his life.
"If I lived in Vietnam I would have a wife and kids by now," he said. "By age 24, my dad had four kids. Right now marriage is not a word even in my mind. I think about it sometimes though because if I lived back there my life would be so different. I have a cousin who was married at 16 and had three kids."
Hong tackled the American way of life upon his arrival and developed a fierce independence. He attended Lawrence North High School and graduated 15th in his class of 485 students. According to his high school teachers, he out-worked other athletes and studied more than other students.
"I never had a formal education in Vietnam," the Classics major said. "We came here from a farming village. We were taught in school to be successful and we see our parents work really hard to support us in school."
Hong's mother works two jobs while his father owns a small business. Hong's oldest brother just graduated from IUPUI, while two younger brothers are currently enrolled at the Indianapolis campus.
"My parents wanted me to go to IUPUI because it's cheaper and closer to home. They said I could go to school and drive home. But I've become more Americanized because I've been able to hang around with American students. And, I wanted to go away from home. I wanted to be more independent. My experience at Wabash is awesome."
His experience has also been unique. His mother has tried to talk him out of wrestling throughout high school and his collegiate career. And because of the incredible hours both work, his parents Phuc and Mai have never seen their 24-year-old son wrestle in high school or college.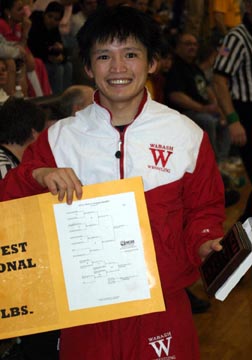 Hong also knows something about hard work. His independence and toughness came out when, early in his high school career, he tried out for the football team. He was resilient in his effort but only weighed 100 pounds.

That's when an assistant football coach introduced him to wrestling.

He had a standout career at Lawrence North and finished his senior season ranked No. 2 at 119 pounds. His career at Wabash will be crowned this weekend. He won the regional title last weekend at Manchester College.

"My freshman year I placed fourth; my sophomore year I was second and last year I was third," Hong said. "So this year my goal was to win it. I worked real hard during the season and I've been wrestling real well and won a lot of tournaments. It's my last year and I want to make it an awesome experience."

First-year coach Brian Anderson said Hong's timing has been perfect this season.

"He's peaking at the right time and really coming on strong right now," Anderson said. "He has been very consistent all year long and a guy we looked to all year when we needed a win."

Anderson adds the strong work ethic is one of Hong's biggest strengths, but he's also good for team morale.

"Phu is a great guy who can get the whole team laughing," the coach said. "He's a happy-go-lucky guy with a great sense of humor. Yet, when he gets on the mat he does what he has to do to come out on top and win the match. He just has the will to win every time he steps out there."

Hong will not be among the favorites at the national tournament. Teammate Chris Healy will enter the tournament as the No. 1 or 2 seed. Hong will be in a blind draw to face any one of the top eight seeded wrestlers.

"My goal is to just wrestle my best and get an upset," he said. "But either way I'm going to wrestle my hardest. I'd love to be an All-American."

Hewitt is Wabash College's Director of New Media and Web Content Editor.

In photos:

On homepage and above: Hong in regular season action photos.

Lower left: Hong after claiming first place at the Div. III Regional at Manchester College.




For more information see: