Warner, Students to Study Ancient, Recent Mayan Culture
by Howard W. Hewitt • February 16, 2005

Share:
History professor Rick Warner will be traveling again this spring into Mexico to study Mayan ruins and the culture of the Mexico and Latin America. He has visited several times but this will be his second Immersion Trip with Wabash students.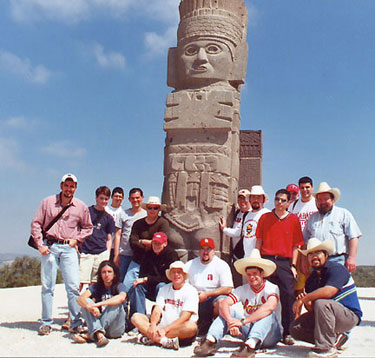 Warner will be joined by 15 students in his History 150 class, Los Mayas. "It's a seminar in the history of the Mayan people covering the last 3,000 years," Warner explained.
Students will focus on three areas of study, including the deep history of Mayan classical civilization – to 900 AD, the colonial encounters of the 16th and 18th centuries, and finally, the Mayan people's recent history.
"We will be traveling to Mayan 'ruins,' or archeological sites, in the state of Chiapas, Mexico," Warner said. "We will explore the pyramids and other structures of Palenque, La Venta, Bonampak, and other pre-Columbian sites.
"We will meet Mayan Indians who live in several different places in Chiapas, including Yacondon, Tzeltal, and Tzotzil Mayans. Thus, we will be making connections between the deep past of Mayan societies and today's cultural and political realities."
The Wabash students will also spend several days around San Cristobal de las Casas, a colonial city in the Chiapas highlands. Wabash Trustee David Orr '57 has prepared an itinerary there where students will benefit from the knowledge of local anthropologists and religious leaders. Orr and his wife, Nancy, own a bed and breakfast in San Cristobal de las Casas.
When the students return to Crawfordsville they will conduct research based partly on the experience in Chiapas. The projects range from archeological and pre-Columbian themes, to colonial histories through studies of recent Mayan peoples. These and other similar projects will be presented in various public forums at Wabash.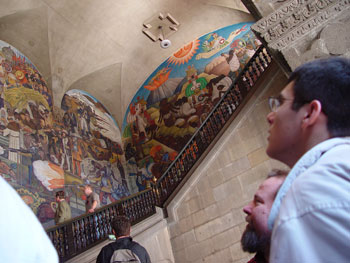 "We are very excited about this trip," Warner said. "I have traveled several times in the region and have conducted research at Na Bolom, in the San Cristobal area, and regional archives. Chiapas is at once rich in color, poor in resources, and welcoming to visitors who are interested in understanding another culture.
"While we will only be there one week, I know from my previous trips that these students will make enormous progress in the development of what some call 'cultural literacy,' the ability to understand a very different culture in its own terms. They will integrate their library-based learning with powerful experiences on the ground.
"This is a formula for learning that cannot be replicated, and for many of them promises to be a personal and academic adventure they will carry with them after Wabash, as they enter their years of life-long learning."