Math Students to Study in Prague Over Break
by Howard W. Hewitt • February 15, 2005

Share:
Wabash math students will be gaining an intense educational experience in Prague, Czech Republic, during a Spring Break Immersion Trip.
The students will spend several days working intensely with mathematicians at Charles University in Prague. The process will allow the math majors to experience meaningful collaborative work in mathematics, a format that is the norm for most research and industrial mathematicians.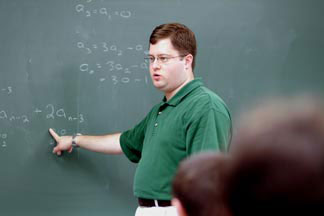 Wabash professors William Turner, Michael Axtell and J.D. Phillips will lead the excursion.
"The professors are very excited about this trip, which will undoubtedly serve as the high point of the senior seminar for many students," Turner said. "The faculty look forward to providing the students with an intense research experience, and exposing them to another culture that few of them would otherwise experience."
During the trip the students will participate in a working conference-type environment in small groups of three to five students per Czech mathematician. The students will build upon the foundational background that their Math 400 class will supply prior to the trip. They will gain a deeper understanding of their chosen project areas.
English-speaking graduate students from Charles University and faculty will guide the Wabash students, supplement their background knowledge, and lead the students deeper into the material necessary for them to complete their projects upon the group's return to Crawfordsville. The students will be involved in a mixture of lecture and small-group sessions, along with several featured speakers.
The 13 students making the trip will have work days structured to begin early and end in mid-afternoon, allowing students to spend the late afternoon and evening exploring Prague and getting to know its residents.
In photo: William Turner.