The Vaudevilles of Chekhov To Be Performed at Wabash
by Karen Handley • February 15, 2005

Share:
The Wabash College Theater Department will present its third theater production of the season, The 'Vaudevilles' of Chekhov , which will run February 23-26 in the Experimental Theater in the Fine Arts Center. The performances are scheduled for 8 p.m. each evening.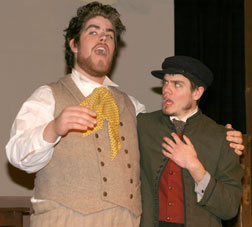 Anton Chekhov (1860-1904) is known principally for his full-length plays — The Cherry Orchard, Uncle Vanya, and The Seagull — but early in his career he wrote several farcical one-acts he dubbed "vaudevilles." Each of these short plays deals with a subject that Chekhov would continue to explore in his later, more famous work: love, in all its manifestations. In The Proposal, a heated property dispute derails a marriage proposal with outrageously funny consequences, and in The Bear, an enraged creditor falls spontaneously in love with his debtor's widow as she vehemently refuses to pay her deceased husband's debt. These two short witty plays, rife with characteristically Chekhovian insight, will share a bill with Chekhov's The Alien Corn, On the Harmful Effects of Tobacco, and A Jubilee , plays of explosive relationships and comic anarchy.
The cast list includes: Nick Kraynak, Wes Jacks, Danny Lippert, Carrie Macy, Matt McKay, Jason Roberts, Chris Mehl, Luke Elliott, Jamie Ritchie-Watson, Mark Mattern, Amy Young, Denis Farr, and Morgan Patchell.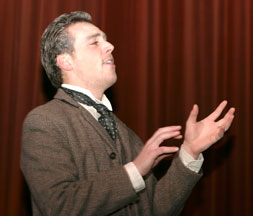 The production is directed by Dwight Watson, assisted by Brett Gann, with scene design by James Gross, lighting design by Donald Claxon, costumes by Laura Conners, and sound by Braden Pemberton. Tom Elliott serves as the stage manager, assisted by Anthony Lewis.

Seating for theater productions will be by general admission, though free tickets are required.

For tickets contact the Fine Arts Center Box Office by email at boxoffice@wabash.edu. Box Office hours are Monday through Friday, 8:30 a.m. to 12 noon and 1:30 to 4 p.m. The box office will open 90 minutes before curtain time for theater events. Tickets not claimed at the Box Office 10 minutes prior to curtain will be released to the general public.




For more information see: