Political Science, Economics Students Headed to Europe
by Howard W. Hewitt • February 15, 2005

Share:
Wabash political science and economics students will soon travel to Europe to study the European Union.
As part of Wabash College's Spring Break Immersion Trips, students will join Political Science Professor Melissa Butler and Economics Professor Kealoha 'Kay' Widdows to study the policies and structure of the European Union. The students have been formulating research topics to be investigated during the trip.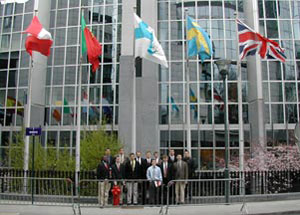 "Students do intensive coursework on the institutions, politics, economic issues, and policies of the E.U. before spring break," Widdows explained.
The trip will give students the opportunity to visit the political institutions of the E.U. The first portion of the trip will take place in Brussels, Belgium, where the group will visit the Commission, the European Council, the European Parliament, and meet with the U.S. Mission to the EU, as well as EU Parliament members.
"This year we're going to Strasbourg, where the European Parliament sits in plenary session, and Brussels, the home of most of the institutions of the E.U.," Widdows said. "We meet with representatives for each of the major players as well as the U.S. We'll also meet alumni such as Brandon Mitchener to get a feel for the kinds of interest groups who participate in the political process through lobbying."
Mitchener '87 has worked as a journalist for the International Herald Tribune and the Wall Street Journal. While working for the WSJ he was a correspondent covering the European Union. He's now employed by APCO Europe, a consulting and management firm in Brussels.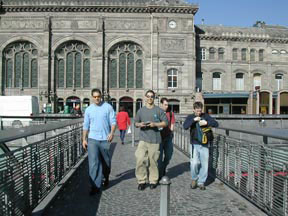 "Students who have gone on the trip in the past have commented they get a great feel for the heterogeneity of Europe and thus the sheer scope of the problem of European integration and the development of a European identity," Widdows said. "They also get to sit in on some parts of the decision-making process; they have a sense of what's immediately relevant for Europe today and precisely how policy gets made."
Students keep journals of their experiences during the trip. The materials will contribute to research papers students will complete during the post-trip portion of the course.
Naturally, part of the Immersion Trip experience is time to explore.
"Since the Wabash students are let loose at night to socialize, they get a great opportunity to meet European young people and talk about the E.U. and the U.S. in the world today," Widdows said. "It's a wonderful expansion of their angle of vision on themselves and the world."