Vagina Monologues, Ensler Create Lively Discussion
by Howard W. Hewitt • February 14, 2005

Share:
If a performance of The Vagina Monologues caused a stir on the Wabash Campus prior to Sunday night's performance, the reaction during and afterward was even more profound.
An overflow crowd jammed Ball Theater to see a female cast from Valparaiso University perform the monologues and hear Obie-Award winning playwright Eve Ensler speak afterwards.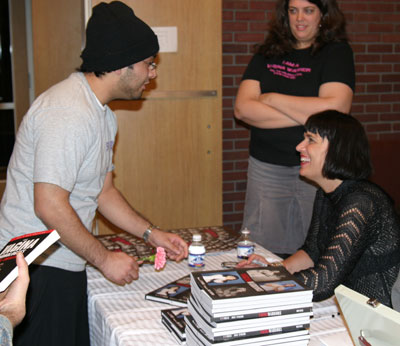 "I've seen thousands of performances and performed a thousand times in this play but I've never seen this many men in the audience," Ensler said after the production. "It's hard to hear the word 'vagina' and for you to feel engaged, but you all passed through one to get here tonight."
She then engaged the crowd in a question and answer period which lasted nearly an hour.
"They were really thoughtful, careful, insightful, provocative, and important questions," Ensler said later. "I really thought the dialogue was one of the best I have had. There were a lot of points of view represented. People were respectful and asked things they deeply cared about. I felt like people really listened to each other. I was really impressed."
The monologues have been performed around the world since debuting in 1997. Ensler initially interviewed 200 women about their sexuality. She has interviewed hundreds more since to update and add to the chapters available for any performance.
But the give and take is what many were talking about afterwards.
"I thought it was wonderful," Curtis Eilers '06 said. "I liked how some real issues were raised. People weren't being overly polite in the question and answer period. I like how candid the cast was."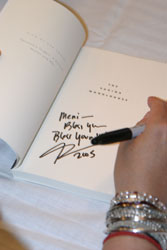 Candid might have been the key word of the night. For anyone unfamiliar with The Vagina Monologues there is no issue or word left unexplored in relationship to female sexuality.
"At first the public opinion at Wabash seemed to be that this was going to be very negative and attacking play against men," freshman Kyle Trusgnich said. "But when I saw it, I really embraced what they stood up for.
"I think most women do need to do exactly what they say – they need to be in touch with their bodies. Men have that growing up, we're in touch with ourselves but women generally are not."
Much of the play revolves around women's sexual self-awareness and building the self confidence to resist and speak out against sexual or physical abuse.
"I have a great respect for women and their sexuality," Trusgnich said. "I was brought up in a house being taught to respect women."
For someone like Ali Ahmed '07, the play was an on-going part of a personal rebellion.
"I've heard about the play before," he acknowledged. "My parents are conservative Muslim people so the topic of sex does not come up. I had heard negative things about the play ... that it talks about sex. I didn't know what to expect. So I came tonight and it was like this is completely different than I thought it was.
"I don't really see what the hub-bub was about. I think people were misinterpreting the actual message of the performance."
Ahmed said it was a wonderful thing to see women, or anyone, feel more empowered to talk about issues previously taboo.
"I probably rebel against my parents' strict, conservative values. So to actually bring up the topic of sexuality is not something to be ashamed of. If women feel more empowered then they don't have to be victims any more."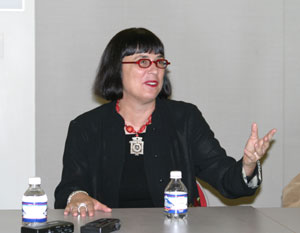 Ensler expressed real satisfaction after the performance that the play was so well received. Earlier in the day, she admitted she didn't know what to expect.

"This is the first time it's ever been done at an all-male school," she said. "But I like the idea of men collectively thinking about vaginas together and what it means to honor them and appreciate them and to hear what women have been through."

A collection was taken following the performance to benefit the Crawfordsville Family Crisis Center. Nearly $500 was collected with 90 percent going to the Crisis Center and 10 percent to the V-Day organization.

V-Day coincides with Valentines Day as a worldwide day to raise awareness about violence against women. The Vagina Monologues and Ensler's work around the world has helped raise $25 million in just seven years for the V-Day movement.

The positive response and huge crowd really pleased Jennifer Young-Abbott of the Wabash College Gender Issues Committee, which sponsored the performance.

"The worst thing that could have happened was apathy, if it came and no one cared," Young-Abbott said. "The interest shows there is a hunger here for talk of these things whether that's driven by a desire to talk about it or to wish it would be talked about. Whether they're coming from the right, the left, man, woman, homosexual or straight, we're all driven to talk about sexuality and tonight's performance is evidence of that."


In photos:

On homepage: Ensler talks with student Tony Lewis '06 as others wait their turn to get an autograph.

At top right: Ensler signs a book for Ali Ahmed '07

Center left: Ensler signed books until nearly midnight.

Bottom left: The playwright answers questions during an afternoon press conference.




For more information see: