Russian Grandmaster Wows Students, Faculty With Skill
by Adam Hawkins '06 • February 8, 2005

Share:
"Just like a TV commercial with fine print at the bottom much of chess involves subtle moves," Gregory Kaidanov, a chess grand master said Feb. 7 at his lecture in the Goodrich room of the Lilly Library.
International chess Grandmaster Kaidanov visited Wabash Feb. 7 to demonstrate his amazing chess skill and dexterity, and also to give a short lecture on the fundamental principles which underlie his chess strategies.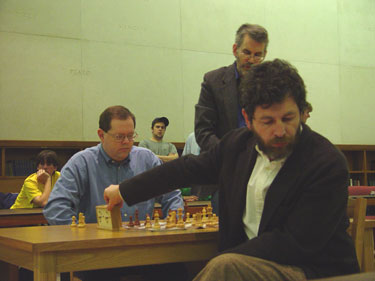 "The key is to focus on basic concepts," Kaidanov, during his lecture, said, "I see so many skilled players who make mistakes with some very basic strategies of the game."
At 7pm in the Goodrich room of the Lilly Library, Wabash's Brad Weaver took on Kaidanov in a game of speed chess, however, Kaidanov played the game blindfolded, calling out his moves while visualizing the war on the board step by step. After Weaver ran out of time and the game finished, Kaidanov reconstructed the game from memory for the audience, showing where mistakes in the game had been made and also explaining the strategic concepts that played into his "chess calculus" during the game.
Following his astonishing performance of blindfolded chess, the audience followed the Russian native into Detchon's International Hall where the grand master proceeded to take on 30 opponents simultaneously. Those playing against Kaidanov were a mixture of Wabash students, faculty members, and other interested chess enthusiasts. With the tables set up in a giant rectangle around the hall, Kaidanov moved from board to board, making moves almost instantly while players struggled to keep up with his strategies.
Sweating under the fluorescent lights, the chess players watched as Kaidanov rotated mechanically around the room and slowly drew them into checkmate traps.
"I made a small mistake, and he enticed me with his knight into a trap," said Udayan Chattopadhyay, a Wabash junior. "In the middle of the game he began pulling out his grand master tricks, and I knew that the game was over,"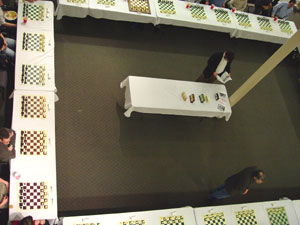 Curtis Eilers, a Wabash junior, was the player to outlast all the others in his match with Kaidanov. As players continued to drop out, students and faculty members alike crowded around Eilers' board and began pointing frantically in an effort to thwart the grand master's moves on the board.

Kaidanov became a Grandmaster in 1988. He currently lives in Lexington, Ky., where he teaches chess and tours the country giving exhibitions.

His list of accomplishments is impressive: Boys under-14 Russian Federation Champion, 1972; Master, 1978, International Master, 1987, Grandmaster, 1988; World Open Champion, 1982, US Open Champion, 1990; tied for first in National Open in 1990, 1992, 1994, 1999; U.S. team member in 1998 World Chess Olympiad; U.S. team member in World Chess Olympiad, 2000.

Kaidanov's appearance is sponsored by the Wabash College Lecture Committee.

Hawkins is a junior writer and member of The Bachelor staff, Wabash College's student newspaper.

In photos:

On homepage, Kaidanov moves quickly about the room making his moves while students, faculty and staff ponder their chessboards. In this photo, sophomore Nelson Barre moves a chess piece while Kaidanov prepares his quick response.

At top, Kaidanov plays Brad Weaver from memory while never looking at the board.

At bottom left, Kaidanov stands in the middle of room while players sit around the tables at their chessboards.





For more information see: