Wabash Graduate's Scientific Illustrations in Current Art Show
by Steve Charles • January 18, 2005

Share: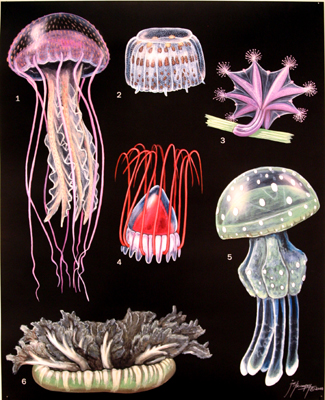 Joe Trumpey '88 was a freshman at Wabash when he signed up for "Survival in Winter," the wilderness skills course taught by professor of religion Eric Dean. One of the College's most beloved professors, Dean was also a Presbyterian minister, author, husband and father, a Benedictine ecumenical oblate, and had served in the RAF during World War II. He died of cancer in 1989.
"Eric was my tent mate for that survival course," Trumpey recalls fondly. "We shared a tent, froze our butts off together."
"Later, when he was trying to establish a program for all incoming freshman to get an outdoor experience, I went to the Appalachians to scout out some places with him, and we did some more camping and hiking together."
Now a scientific illustrator and a professor at the University of Michigan's School of Art and Design, Trumpey's passion for the outdoors has only grown stronger. In addition to his work at the university, Trumpey teaches Eco-Explorers, an interdisciplinary and collaborative program that brings science, art, and environmental education to elementary and middle schoolers.

Trumpey is chief science illustrator for the 17-volume Grzimek's Animal Encyclopedia, and works from that book are among those currently on exhibit at the Wabash Fine Arts Center in a show titled "Nature Observed and Expressed." The show illustrates the varied ways artists are influenced by and respond to nature. Trumpey's drawings and paintings share the gallery with more abstract works by Betsy Stirratt and Linda Salerno.
He and his wife, Shelley, own a farm near Ann Arbor, and the couple enjoys camping, scuba diving, and hiking and sharing those experiences with their students.
The director of the School of Fine Arts Gallery at Indiana University, Stirratt's work is influenced by current graphic and interior design as well as by natural and biological forms and phenomena.
Salerno says the genesis of this body of her work came while she was in Italy, where Salerno was surrounded by a garden and longed to record the magic she saw.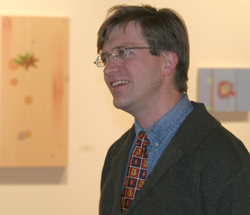 The juxtaposition of Trumpey's intricately detailed scientific art with Salerno's and Stirratt's paintings is both compelling and illuminating.
"This is a great show for school kids to visit," says Wabash art professor Greg Huebner. "They'll look at the realistic depictions in Joe's work, then recognize those shapes or elements in the other paintings. They begin to see the value of each, how the artistic process can work."
Huebner notes that classes from area elementary schools have already scheduled visits to the exhibit, which is housed, as Trumpey notes appreciatively, in the gallery named for named for his mentor, the late Eric Dean.
"I've had such a warm welcome coming back, and it's been great to see my old professors," Trumpey says. "But it was really special to be in the Eric Dean Gallery, because he was such an essential part of my experience when I was here."

At top left, is sample of Trumpey's illustrations. Bottom right is artist Trumpey.