In a Wabash state of mind
• January 12, 2005

Share: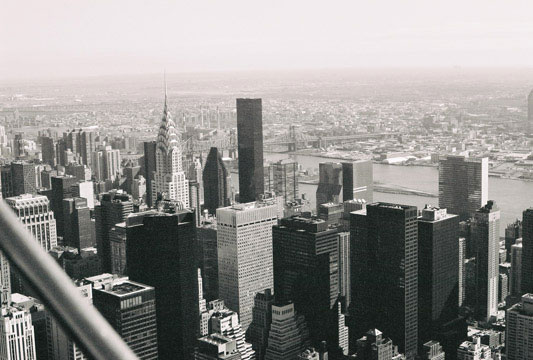 Mark Novacovich '05 needed a taste of home during his internship in New York City. So he checked the Wabash website and found the date for the New York alumni dinner meeting.
"Everyone where I was working was from Cornell, Wharton, or Princeton, so I thought it would be nice to meet some people who'd at least heard of Wabash," the senior history major says. "Plus it was a Polish restaurant in Brooklyn—I'm half Polish, and I hadn't been to Brooklyn."
What Novacovich found when he emerged from the subway surprised him.
"Laundry was hanging from wires between the buildings—it looked like a neighborhood from the 1950s, and the restaurant was small, narrow, with no air conditioning," he says. "And many of the people were speaking Polish."
His dining companions were even more of a surprise—Bill Moore '42 and Kurt Ramig '67.
Novacovich says Wabash is one of the few things those men have in common, and their camaraderie was a memorable introduction both to the city, and to Wabash alumni.
"Mr. Ramig was there first, and he talked about the politics of the city, that people in New York were liberal. Then Mr. Moore comes in, and he's just the opposite—very conservative. He reads the Wall Street Journal. Mr. Ramig reads The New York Times. Mr. Ramig was criticizing Bush. Mr. Moore was skeptical of Kerry.
"They're total opposites politically, but the dinner was a lot of fun," Novacovich says,
"It's amazing how well they get along. They joke and quibble about the politics, but I was really impressed with how their friendship went beyond that."
Read about Novacovich's internship in financial services in Campus Notes.