Eyes on Ecuador
• January 12, 2005

Share:
Summer for Wabash students
isn't the same as it used to be…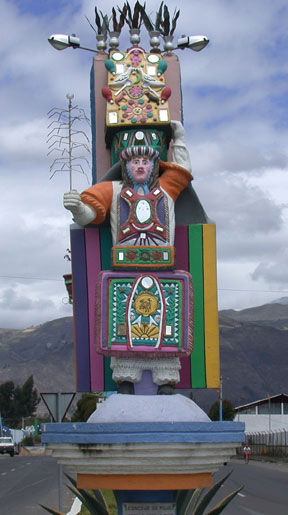 In June and July 2004, 26 students studied in locations throughout Ecuador in an expanded version of the College's Ecuadorian Studies Program. This year a science course was added to the literature course taught by Ecuadorian author and Wabash Visiting Professor Luis Anguilar-Monsalve, taking students from the country's volcanic peaks to the Amazon River basin.
Ecuador is becoming a frequent Wabash destination, with professors of economics, political science, modern languages and literature, mathematics, and science planning courses or immersion experiences in the country. This winter 16 professors will travel to Ecuador to develop more learning opportunities for Wabash students.
WM asked Dean Mauri Ditzler and Associate Professor Dan Rogers, director of the Ecuador Summer Program, "Why Ecuador?"
Dan Rogers: Ecuador has more diversity of species, culture, and geography within its borders than just about anywhere else in Latin America. It's about the size of Colorado, so much is readily accessible. You can visit the Siona Indians in the Amazon Basin one day, study literature with an Afro-Latino writer on the coast 24 hours later, and six hours later be talking in quechua to a poet in the Sierra (mountain) region. And we're doing that.
To do something as multidisciplinary as this program is becoming, I need the breadth of experience I've had in Ecuador in terms of knowing the people, knowing the country, and having long term relationships with people to facilitate these learning experiences for our students. [Ecuador is Rogers' research specialty, and he's spent years in the country.]
Mauri Ditzler: One important aspect of a residential College is that, even though students take different courses, they do some things in common. Courses like Cultures and Traditions or events like Chapel Sing become touch points that students talk about in class, in dormitories, and over meals.
Studying abroad is great for our students, but if every student goes to a different place in the world, there are no common touch points to talk about. Of course, unique experiences are an important part of a student's education, but we're also looking for some touch points in that off-campus experience.
If part of our students' off-campus experience is in the same country, the learning continues long after they return. They can talk about aspects of the culture that they've all seen, regardless of whether they've studied economics or religion or science in Ecuador.
We can imagine a conversation in a dorm or fraternity between a student who has studied the mixture of capitalism and socialism in the economic system of the village of Mindo, and another student who has gone there to study the mix of evangelical Christianity, Roman Catholicism, and indigenous religions. They bring to the conversation very different aspects of Mindo, but will also have common touch points of experience to refer to that will help them to better learn from each other, and to better share that learning with the community.