Filmmaker David Bussan to Present Screenings Tonight
by Karen Handley • January 12, 2005

Share:
Wabash College is pleased to welcome MacGregor Visiting Artist and Scholar, David Bussan. Bussan will show two of his award-winning short films, En Passant and Seasonal Days, at 7:30 p.m. today in Korb Classroom in the Fine Arts Center. After the screening, Bussan will comment and respond to questions.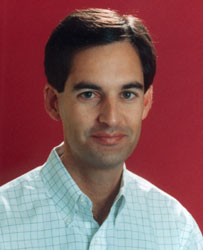 Bussan was born and raised in Canton, Ohio, and received a B.A. in cinema from Denison University and a Master's of Fine Arts in film/video from the California Institute of the Arts. He has made films since 1979 and received an Ohio Arts Council Individual Artist Fellowship in 1987 and a Great Lakes Regional Fellowship from the Center for New TV in Chicago in 1992.
His 1986 film En Passant was screened at several film festivals while winning awards at the Chicago International Film Festival, the Great Lakes Film and Video Festival, and the Athens International Film Festival. His recent works include Seasonal Days, a film about his relationship with the New York Mets, and Global Reflections, a documentary concerning gazing globe lawn ornaments.
Bussan has been Professor of Cinema at Denison University for the past 18 years and is currently completing a documentary on the different cultures that have left a lasting impression on the Mediterranean island of Cyprus.
Bussan's film showing is free and open the public.