Writer Sandra Miesel to Speak at Wabash
by Karen Handley • November 2, 2004

Share: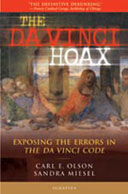 Wabash College invites you to hear speaker, Sandra Miesel, Thursday, November 4, at 8 p.m. in Lovell Lecture Room in Baxter Hall. The title of her talk is "The Da Vinci Code: Fiction Mutlating Fact."
She will deal with some of the current questions regarding Dan
Brown's best selling novel The Da Vinci Code. Miesel believes Brown's novel purports to be more than fiction; it claims to be based on fact and scholarly research. She believes Brown wants his readers to believe that he is revealing the long-concealed truth about Jesus, Mary Magdalene, and early Christianity, a truth that he says has been suppressed by the malevolent and conspiratorial forces of the Catholic Church. The novel alleges there has been throughout history a secret group of true followers of a Gnostic Jesus and his wife, Mary Magdalene, the true "Holy Grail." Almost everything most Christians and non-Christians think they know about Jesus, according to Dan Brown, is completely wrong, the result of Catholic propaganda designed to hide the truth from the world.
But are The Da Vinci Code's claims fact or just plain fiction? Is the novel well-researched as claimed? What is the truth about Jesus, Mary Magdalene, and the early Church? Has the Catholic Church distorted the real Jesus? Why is the novel so popular? What about the anti-Catholic, anti-Christian agenda behind the novel? Best selling author Sandra Miesel will answer these and other important questions. Her painstaking research into The Da Vinci Code and its sources reveals some surprising truths.

Miesel holds masters' degrees in biochemistry and medieval history from the University of Illinois. Since 1983, she has written hundreds of articles for the Catholic press, chiefly on history, art, and hagiography and her recent book, The Da Vinci Hoax: Exposing the Errors in 'The Da Vinci Code,' co-authored with Carl Olsen. She regularly appears in Crisis magazine and is a columnist for the diocesan paper of Norwich, Connecticut. Miesel has spoken at religious and academic conferences, appeared on EWTN, and given numerous radio interviews. Outside the Catholic sphere, she has also written, analyzed, and edited fiction.
Her talk is free and open to the public.