Glee Club Helps Van Cleave Celebrate 100th
by Howard W. Hewitt • October 28, 2004

Share: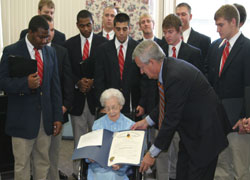 The Wabash College Glee Club helped Crawfordsville Lane House resident Autumn Van Cleave celebrate her 100th birthday Oct. 28.
Mrs. Van Cleave is the widow of the late A.W. Van Cleave, a 1924 Wabash graduate. Van Cleave was a member of the Glee Club while attending Wabash.
Phil Coons '67 and his brother Steve Coons '63 were on hand to help celebrate their aunt's birthday.
The Glee Club, under the direction of Richard Bowen, sang for Mrs. Van Cleave and other Lane House residents. The residents then helped celebrate the 100th birthday with cake and ice cream.
In the photo, Steve Coons presents his aunt with a Sagamore of the Wabash Award from Indiana Governor Joe Kernan.