Big Similarities In Two Huge Games
by Brent Harris • October 14, 2004

Share: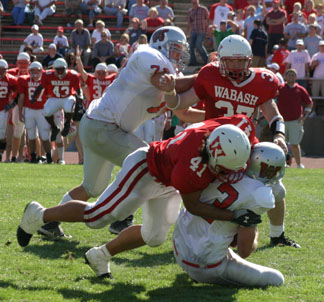 What more can you ask for from a Saturday afternoon football game? Two undefeated teams, both ranked in the national polls. Both are battling for the top spot in the conference. One features a national player of the year candidate who is a dominating player on offense. The other features one of the best defensive units in the nation. Both will meet in Crawfordsville, Indiana on Saturday afternoon at 1 p.m.
Crawfordsville? That's right, Wabash College will play host to the College of Wooster on Saturday afternoon at 1 p.m., a few hours before two other teams that fit that list of credentials, Purdue and Wisconsin, play just up the road in Lafayette.
You probably know about Heisman Trophy candidate Kyle Orton's gaudy offensive numbers, helping the Purdue Boilermakers to a perfect 5-0 mark. You may not realize that Wisconsin, 6-0 on the season, comes into the game against Purdue as the top-ranked defense in the nation, holding opponents to 198.3 yards of offense per game. The Badgers are also ranked number one in scoring defense, giving up only 6-1/2 points a contest.
But if you're not a devotee of Division III football, you may not realize the similarities in Saturday's game at Byron P. Hollett Little Giant Stadium. Wabash College comes into its game against Wooster with a 5-0 record, 3-0 in North Coast Athletic play. The Scots are also 5-0, posting a 2-0 mark in NCAC play. The Little Giants have one of the top defenses in the nation, ranked fifth in scoring defense (8.2 ppg), 10th in rushing defense (64.4 ypg), and 14th in total defense (224.4).
The Little Giant defensive unit will face its toughest test of the season this weekend when the Scots' Tony Sutton comes to town. Sutton was a finalist in 2003 for the John Gagliardi Trophy, the Division III equivalent of the Heisman. Last season he led the nation — including all players in the Division I, I-AA, II, and III — in rushing yards (217.2 ypg), scoring (20.7 ppg), and all-purpose yards (244.8 ypg). Sutton was named the NCAC Offensive Player of the Year and earned his second All-America honor. He comes into Saturday's game ranked third in Division III in rushing (174.8 ypg), second in scoring (16.8 ppg), and fourth in all-purpose yards (203.2).
Wabash enters the week ranked 23rd in the D3football.com weekly top-25 poll and 13th in the American Football Coaches Association poll. The Scots are 13th in D3football.com and 14th in the AFCA rankings. The Boilers and Wisconsin are among the elite in the D-I polls. Purdue is fifth in both the AP and ESPN/USA Today rankings. The Badgers are 10th in AP this week, 12th in the ESPN/USA Today poll.
Just in case you needed one more connection between the two games, keep this fact in mind. The trophy that Orton hopes to take home later this year is named after former Oberlin College football coach John Heisman, who led the Oberlin team to wins over Ohio State and Michigan in 1892. That's the same school that Wabash claimed a 44-17 victory over last weekend and the Scots will play in two weeks.
Saturday fans will gather outside of Ross-Ade Stadium to watch ESPN's Chris Fowler, Kirk Herbstreit, and former Indiana University head football coach Lee Corso air their weekly College GameDay program from just outside the stadium. At the same time, Wooster and Wabash fans will be gathering for an equally important game just 27 miles south straight down US Highway 231. Who knows, with a 1 p.m. kickoff in Crawfordsville and 4:30 p.m. start in West Lafayette, maybe some college football fans plan to take in both games to see four of the best programs in their respective divisions play this week.
(Photo above - Tim Parker adds another sack to his season totals. The Wabash defense will face its toughest test yet this Saturday when Wooster comes to Crawfordsville.)