Unger: 'Bush giving us worst of both worlds'
by Howard W. Hewitt • October 11, 2004

Share: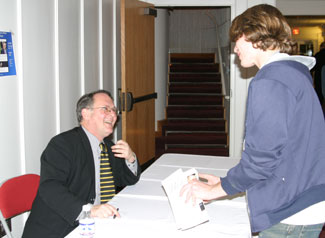 Ties between the Bush family and Saudi Arabia's Royal Saud family go back more than 25 years and are at the root of problems America faces today, believes veteran journalist and author Craig Unger.
Unger addressed nearly 100 people in Salter Hall in the Fine Arts Building Monday night and talked about his New York Times bestseller, House of Bush, House of Saud.
"Saudi Arabia is a country that has played a bigger role in fostering terrorism in the world than any other county, including Iraq," Unger said.
The author detailed his book which he says shows long-established connections between George H. Bush and President George W. Bush and the Royal Family. He contends the Saudis poured millions of dollars into companies with Bush ties and ties to friends of the Bush family.
His book opens with what initially spurred his curiosity which was flights out of the United States on Sept. 13, 2001, two days after the attacks on New York and Washington D.C. Unger learned more than 100 Saudis, including approximately two dozen members of the Bin Laden family, were flown out of the United States without ever being questioned about funding possible Islamic terrorist activity.
"I think Bush, in many ways, has given us the worst of both worlds," Unger said. "First in being soft on terrorism, in terms of addressing its root causes and, second, actually making it worse through the war in Iraq. The war on terror should have begun with Saudi Arabia's funding of Islamic fundamentalists."
But the root of future problems could come back to being the Middle East Oil, he explained.
"The thing that will hit people in the pocketbook here is our ties to Middle Eastern oil are more tenuous than ever before. Iraq is a mess. Our ties with Saudi Arabia are shakier than ever before. The price of oil has gone up from $23 a barrel Sept. 12 to $53 today. You have the ascendancy of China and India at a time when peak oil may be a reality."
Unger said some geologists believe that within the next five years the world will have exhausted half of nature's oil. "And when that happens prices don't go up gradually, they'll skyrocket."
Unger's reporting suggested a plan to invade Iraq existed as far back as the end of the 1992 Gulf War. He said then-president George Bush rejected it, President Bill Clinton rejected it, but members of the current Bush administration saw 9-11 as an opportunity to move against Saddam Hussein.
Unger acknowledges the book has been very controversial. "Basically the White House has tried to characterize me as a conspiracy nut," he said. "But there are more than 1,000 footnotes in my book; many of the documents are available on the Internet. You can check up on me if you want."
The criticism, or lack of attention, that most frustrates Unger is the media reaction. "I've probably given 500 talks but I'm basically taboo among the Washington press corps," he said. "The Washington press corps will not deal with this issue head on as far as confronting the White House.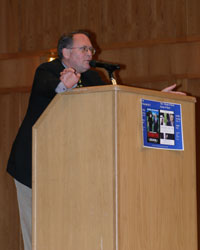 "There's been so much consolidation of the press so that there really are eight to 10 companies that own the vast majority of them. When you're covering the White House or Pentagon or inside the beltway for one of those companies, you become addicted to sources. If you want that exclusive with (defense secretary) Donald Rumsfeld and if you ask these questions you're not going to get it. That hurts your career so they just ignore it."

Unger noted recent developments which have backed up many of his book's allegations, including Sen. Bob Graham who has publicly discussed the Senate Intelligence Committee's discovery of probable links between the Saudis and apparent funding of two of the terrorists involved in the 9-11 attacks.

Unger answered questions and signed books at a reception following his formal remarks. Discussion continued among Wabash students and staff about what they had just heard.

"It really was kind of a continuation of other things I've been thinking and hearing the past few months leading up to the elections," Sophomore Jim Stephens '07 (in photo with author, above) said. "It's just the general connection between the people in high positions of government, and it could be either party, and their close ties and conflicts of interest to companies in oil and weapons production."

The Lecture Committee sponsored Unger's Wabash appearance. The author appears frequently on news talk television programs as an analyst on terrorism, Saudi-American relations and the oil industry. He was editor of Boston Magazine and deputy editor of the New York Observer. He's also written for The New Yorker, Esquire Magazine and Vanity Fair.




For more information see: