NYT reporter: World View of U.S. Frightening
by Howard W. Hewitt • October 6, 2004

Share: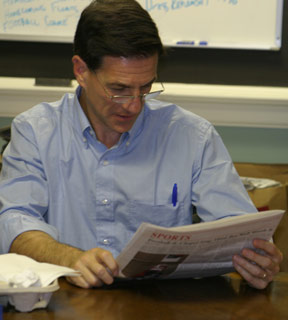 A veteran journalist and former Middle East correspondent told Wabash community members Wednesday that the Middle Eastern view of the United States in not a flattering one.
"The level of anti-American sentiment in the world is at a very frightening level," Ethan Bronner said. Bronner is deputy foreign affairs editor for The New York Times. He spent time as a Middle Eastern reporter with the Boston Globe before joining The Times in 1997.
Most of his views are shaped from his years in that part of the world and extensive foreign travel this summer. "The central idea animating our policy at the moment is that everyone in the world uniformly thirsts for freedom," Bronner said. "And it seems patronizing or problematic to say that's not what my experience has taught me – but it's not what my experience has taught me.
"It might be that people would thirst for freedom under certain circumstances, but I would say broadly that when you spend time in societies that are fundamentally tribal or clan based or land, shame and honor based that freedom is not their first value. Therefore, saying to them that we're going to free you doesn't work."
Bronner spoke to a foreign policy class, met with Bachelor student journalists and gave a public lecture in the Fine Arts Building.
He also tackled the perceived liberal bias often aimed at the news media, and often the New York Times in particular. He served as the paper's Assistant Editorial page editor before moving to his current position, but admitted the fit was not a comfortable one.
"I prefer to just put it (news) out there than having to offer a judgment," he told Bachelor writers.
While admitting the editorial page traditionally takes a liberal point of view, he asserted the news side strives diligently to be objective.
"The executive editor of The New York Times has no say over those two (Opinion/Commentary) pages. And the editorial page editor has no say over the news pages."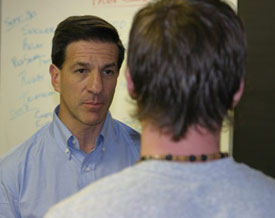 He spent more than an hour with The Bachelor student staff offering insights, stories and journalistic tips.

"The most valuable thing he taught us is there is not one set path to succeed in journalism," said Bachelor Editor Tim Flowers '06. "That's particularly profound for Wabash students because we do not have a journalism program. We do not have a set curriculum here that teaches us to write like that. We learn to write here because its part of a liberal arts education and that was one of the most encouraging things he told us because he was a liberal arts student."

Bronner graduated from Wesleyan University and got his master's at Columbia University's School of Journalism.

Though leaving for Paris Friday evening for a meeting of European foreign reporters, the Wabash visit was a pleasant change of pace.

"I was asked very astute questions throughout the day," he said. "Every single question was thoughtful and it was impressive. I don't speak every week at a college campus but this was certainly among the more thoughtful groups of people that I've ever addressed."




For more information see: