Homecoming '04 Celebrates Wabash Achievement
by Jim Amidon • August 31, 2004

Share: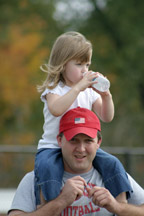 Wabash College welcomes its alumni, parents, and friends to Homecoming '04, a celebration of Wabash achievement.
Homecoming is set for Friday and Saturday, October 1-2, 2004. Amid the many activities will be a celebration of the Campaign for Leadership, which reached successful conclusion on June 30 with a record $136.1 million in gifts and pledges. The National Association of Wabash Men, which meets that weekend, will honor various alumni with Awards of Merit and will name two friends of the College Honorary Alumni.
The $5 million renovation of Goodrich Hall will be unveiled with a re-dedication ceremony. Sandwiched around the celebrations with be numerous gatherings, sports events, and concerts.
The full schedule includes:
Friday, October 1, 2004
Celebrating the Campaign for Leadership
5:30 p.m. in Knowling Fieldhouse (by invitation)
Saturday, October 2, 2004
Re-Dedication of Goodrich Hall
9-10 a.m. Open House and Tours
10:00 a.m. Dedication on the East side of the building
Homecoming Alumni Chapel
11:00 a.m. in the Pioneer Chapel
Presentation of Alumni Awards of Merit to:
David S. Orr '57
Herman G. Haffner '77
James R. Wood '61
Presentation of Honorary Alumni:
Gregory A. Shaheen
Jean M. Williams
Presentation of the Alumni Admissions Fellow:
Peter A. Pactor '65
Celebrating Leadership Annual Fund Luncheon
12:15 p.m. in Knowling Fieldhouse (by invitation)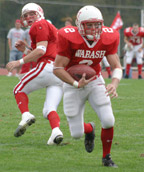 Football vs. Ohio Wesleyan University
2:00 p.m. in Byron P. Hollett Little Giant Stadium
sh'OUT Reception for Alumni and Friends
5:00 p.m. in Caleb Mills House
Fraternity Open Houses and Receptions
5:00 p.m in fraternity houses
Homecoming Concert
8:00 p.m. in Salter Hall of the Fine Arts Center
For more information, contact Michele Tatar in the office of Alumni and Parent Relations
tatarm@wabash.edu or (765) 361-6369