It's Tailgate Time!
by Tom Runge • August 5, 2004

Share: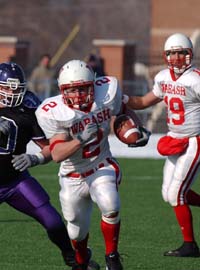 Wabash Football!!! With the start of classes and fall just around the corner, it's time to be thinking road trip and tailgates. Our first tailgate takes us back to Kalamazoo College in Kalamazoo, Michigan on September 11, 2004. We'll be tailgating just behind the visitors' stands in the same area as last year. Tailgate starts at 10:00 AM (Michigan time) with game time set for 1:00 PM. Come out and cheer the Little Giants on to victory.
This tailgate is being sponsored by the Kalamazoo and Grand Rapids Associations of Wabash Men.
For more information on the tailgate, including a set of directions, send an email message to: alumni@wabash.edu