Wabash Club of Chicago - A Day in Wrigleyville
by Michael Warren • May 24, 2004

Share: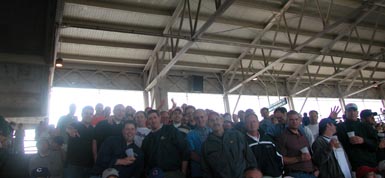 The rain came early and then gave way for a beautiful late morning and afternoon for the 3rd annual Wabash Club of Chicago - Cubs Outing on Friday May 21. One hundred Wabash alumni, friends, and family came out for this fun event in Wrigleyville. Event organizer Eric Schoettle '93 arranged pre-game festivities this year at John Barleycorn (just south of Wrigley Field on Clark Street) and loyal Wabash supporters began arriving at 11:30 to enjoy the great food and drinks.

While it wasn't a great day on the field for the northside team, despite 4 home runs on the day, It appeared that everyone in attendance had a great time.

Tom Raycroft '66 celebrated a birthday during the event with his four sons, all Wabash men, and other family members. Brian Robinson '96 received the award for traveling the farthest distance to attend. While not returning specifically for the Cubs game and this event, Brian happened to be traveling to the states from London, where he now lives and works, and it just worked out where he could join us.

Thanks to all who had a hand in making this event possible.

The next event for the WCC will be the annual golf outing. Mark your calendars now for Friday, August 13 and plan to join us for more fun.