Wabash on the Road in San Francisco
by Michael Warren • April 30, 2004

Share: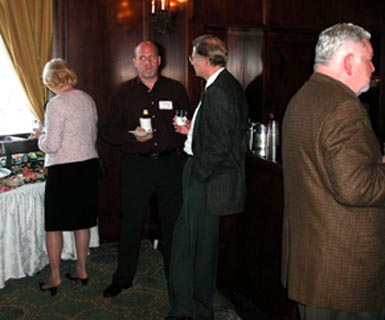 Wabash alumni and friends in the bay area welcomed Wabash theater professor Michael Abbott '85 to the west coast for a Wabash on the Road event on Thursday, April 22. Following a cocktail reception Abbott lead a discussion based upon his freshman tutorial, "The Western: A survey History of an American Film Genre."
The discussion revolved around one film in particular, OPEN RANGE (2003). Abbott challenged those attending to view this film before the event and come prepared to discuss how it may be seen as a modern post-9/11 American film. The group viewed a few clips from the movie and discussed how Kevin Costner (director) portrayed events of the world we live in today in the film.
Special thanks to professor Abbott for making the trip and to Bob Hobson '57 for organizing such a fine evening at the Marine's Memorial Club.