Police Find Lobdell's Passport; Intensify Search
by Maria Flora, The Journal Review • April 23, 2004

Share: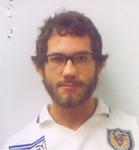 Tony Lobdell

Argentine police found a missing Wabash College student's passport and other belongings Thursday in his room at an inn after an American couple reported seeing him.

Anthony Hyatt Lobdell, 21, Indianapolis, is enrolled in an Institute for Study Abroad program at Universidad Nacional de Cuyo in Mendoza, Argentina, about 624 miles west of Buenos Aires.

Argentine federal police are heading the investigation into his whereabouts. The U.S. Embassy issued a press release and Lobdell's photo to 250 Argentine media outlets Wednesday pleading for help finding the man. On Thursday, an American couple told Embassy officials they'd talked with Lobdell April 9 in a mountain park near the town of Bariloche in the Patagonia region of the Andes Mountains.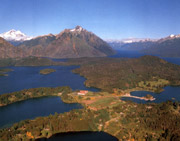 Bariloche, Argentina

Lobdell left his host family's home April 1 for a vacation in southern Argentina, Joanna Holvey-Bowles, IFSA associate director, said.

Lobdell told his host family he would return April 11. They became alarmed and reported him missing to the U.S. Embassy in Buenos Aires when he did not return by April 16. His host mother Silva Pont de Balbi told the Argentine newspaper, La Nacion, that Lobdell promised to call her when he reached the town of Bariloche, but she has not heard from him.

The American couple said they met Lobdell at a mountain park April 9. He was on his way down the mountain to catch a bus back to Bariloche about 4:30 p.m., an Embassy official who did not want to be identified, said.

Argentine police Thursday searched the room in the inn where Lobdell had been staying since April 6 and found his clothes and passport, "Which to us means he had only gone out for the day, expecting to come out shortly," the State Department official said. Sources did not name the inn or the mountain park where Lobdell was last seen.

The U.S. Federal Bureau of Investigation in Argentina is working with local officials.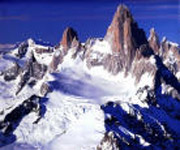 The mountainous region of Bariloche

Lobdell's parents Lawrence and Nancy Lobdell went Thursday to Chicago where they will get rush passports and fly to Buenos Aires today, Jim Amidon, Wabash director of public affairs said. Jose Mostafa, resident director of the exchange program in Mendoza, will meet them there and travel with them as a guide and translator to Mendoza and Bariloche.

Argentine federal police, Mendoza police and forest rangers were searching for Lobdell. "They now have a better idea of where to look and hopefully that will speed things along," Amidon said, adding, "Everyone at the college continues to hold out hope that the intensified investigation and new clues will lead to his safe return."

Lobdell last used his Wabash College e-mail account April 7. He withdrew $36 from his Argentinean bank account through an automatic teller machine in Bariloche April 9, his host mother told La Nacion.

"Anthony is a very responsible boy, very studious, sociable, and 'sano' (good or wholesome) who liked sports, intellectually curious, serious, and helpful," Pont de Balbi told a La Nacion reporter. Lobdell lived with her family since his arrival in February.

Lobdell is a Franklin Central High School graduate. He is a Wabash College junior majoring in political science and minoring in Spanish. Lobdell's friends know him as Tony. He is a member of Delta Tau Delta Fraternity.

Young Americans and Europeans visit southern Argentina in droves because it's a beautiful area and the dollar is strong, the State Department official said. The area where Lobdell was last seen has rugged terrain.

Amidon said parents are voicing concerns about their students' safety abroad. The college has no plans to call students home, as a great percentage of them will study abroad during the course of their education, he said.

The State Department official said it is highly unusual for an American to go missing and that Argentines are generally non-violent toward U.S. citizens. The official also would feel comfortable with their son living and studying there.

Information about the investigation is available at the Mendoza newspaper, La Nacion, Web site: www.lanacion.com.ar

© 2004 The Journal Review



More News
---
---
Related
Police Find Lobdell's Passport; Intensify Search