Wabash College Senior Artists Display Their Talents
by Beth Swift • April 13, 2004

Share: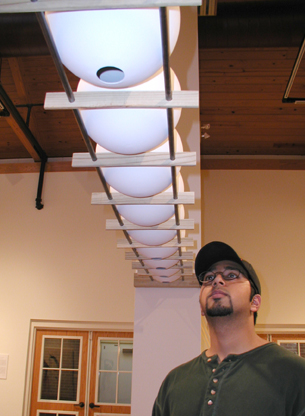 The Art Department of Wabash College is pleased to announce the 2004 Senior Art Majors Exhibit. This exhibition represents the culmination of four years of thought, creativity, and work by three talented young men—Paul Arnold, Michael Bricker, and Jason Morales. The last show of the season, the Senior Show is a tradition in the Art Department and a rite of passage for each art major. The exhibition will open with a reception Monday, April 19 from 8:00-9:30 p.m. in the Eric Dean Gallery, Randolph Deer Art Wing in the Fine Arts Center. The Eric Dean Gallery is open Monday-Friday 9:00-5:00 p.m. and Saturday from 10:00 a.m. until 2:00 p.m. The exhibit will be on display through Commencement, May 16, 2004.
Each artist has a different viewpoint and approach to his art. It is this difference that makes the senior show such a fascinating exhibit. Sculptor Paul Arnold says of his work: "Interaction has been defined as a mutual or reciprocal action and the transfer of energy between the objects. My obsession with this concept has found a place in my senior studio projects. Using steel and plaster, I intend to bring materials together to create something graceful, elegant, and beautiful. Like the roots of tree growing over a rock or the quick embrace of friends, I hoped to capture the essence of interaction."
Paul continues by saying, "My current focus on interaction has taught me that interaction is beautiful when the materials affect one another, but cannot be forced. My artistic goal is to emphasize the purity and beauty that can be found when the interaction of materials is explored."
Michael Bricker is the second of the senior artists and his focus is very different than that of Arnold. Bricker describes it in his own words: "As the world in which we live becomes increasingly technological, impersonal and capitalistic, I find that we as humans are rapidly losing our individuality. Although the media sphere often treats the public like malleable and senseless market niches, we as consumers and conscious humans must be willing to question and to investigate the visual information habitually presented before us.
"My work, accordingly, seeks to confront mass consumerism and media consumption such that viewers actively consider their placement and their role within this technological culture. By exploiting and manipulating various images and icons pulled directly from popular culture, I aim to illustrate technology's simplification and pixilation of the human body and mind."
Jason Morales looks at technology as well and what he sees is beauty: "What began as my effort to cope with a dependency upon computers has turned into something more meaningful. So often people use computers without half a thought to the internal components. The precision required to make today's computers and circuit boards is an exact science. Measurements and materials must be of specific design and precise geometry."
As Jason says, "The geometry of fine copper and gold angled precisely through a printed circuit board is a beauty to behold. I seek to capture not just the complex intricacy of the circuit board, nor simply the linear qualities that make them aesthetically pleasing. Somewhere in between is a balance of the two, which I seek to portray in my works." Jason feels that his works "have evolved to share an artistic value that is rarely realized by those who make use of computers."
The exhibit is free and open to the public.