Alumni Basketball Game 2004
by Michael Warren • February 16, 2004

Share: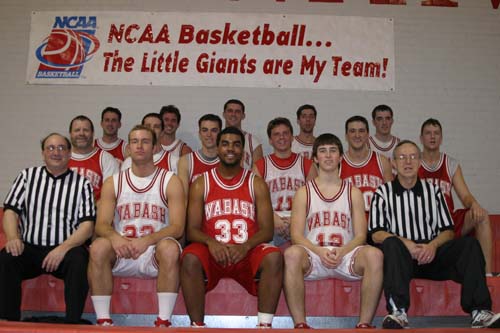 The 2004 edition of the annual alumni basketball game was played on February 14 prior to the varsity contest against Denison. Eleven former players returned to campus to play again on Chadwick Court and they were joined for the game by three current junior varsity players.
Freshman Jake Turner and sophomore Jimmy Owens joined five players from the class of 2003 (I guess they couldn't wait to get back on the court) to form the white team while alumni from the mid to late 90's teamed with one from the class of 1971 and sophomore Michael Woods for the red squad.
Rookie alumni game participants Eric Buck, Kip Chase, Brady Claxton, Joe DesJean, and Ryan Short proved to be no match for the savvy veterans Steve Weliever '71, Boomer Grange '94, Beau Barrett '98, Kevin Gearheart '98, Chad Tabor '99, and Josh Estelle '00. The more experienced red squad increased a 10 point halftime advantage to near 30 before the game ended. The fans on hand enjoyed the game all the same watching these Little Giant legends from the past.
Thanks to those players who returned to participate and also to Jon Pactor '71 and Pat Walter '69 for doing an outstanding job as our volunteer officials.