Wabash College President Scott Feller recently announced the appointment of the Rev. Libby Davis Manning as the new director of the Wabash Pastoral Leadership Program (WPLP).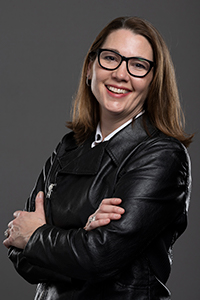 Davis Manning had served as the associate director of the program since 2013 and is an alumna of the second WPLP cohort. She succeeds Dr. Derek Nelson, a Wabash professor of religion, who had led the program since 2013.
Funded by Lilly Endowment Inc., the Wabash Pastoral Leadership Program develops mid-career Indiana pastors by engaging them in substantive theological reflection on many complex social issues facing contemporary Christian congregations. It provides a teaching and learning venue for pastoral leaders that has practical significance for their lives and the well-being of the communities they serve.
"Libby is enormously accomplished and dedicated to the pastoral program – it's really her calling," said Dr. Raymond Williams, who founded the program in 2007. "I think it is a Christian commitment, theological-base of great graciousness that is her key. The Wabash Pastoral Leadership Program says it seeks high-capacity pastors, and I know of no pastor that has higher capacities than Libby. If you want an exemplary leader for the program, she's it."
About 100 pastors representing seven cohorts have participated in the WPLP thus far.
Nelson said he is excited to see Davis Manning take on this leadership role, and that because of her character and experiences, she is the perfect one for the job.
"She's organized, thoughtful, and intelligent, but she also has this really deep spiritual vein that runs right through her heart that allows her to empathize with people who are really hurting and struggling," Nelson said. "At the same time, she also has this kind of power that allows her to feel very at ease and comfortable with the highest CEOs and government leaders that we bring into the program. It's rare to find a person quite like Libby.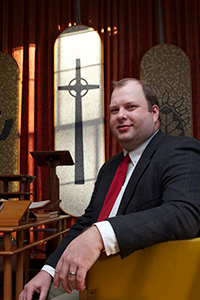 "She's already committed so much and has done such a great job over the years with the program," he said. "We are lucky to have her, and I have no doubt she'll continue to do great things."
Nelson will remain involved with pastoral leadership development as director of a program that brings together the leaders from across the country who direct similar leadership programs for pastors in the early stages.
Davis Manning previously served as the Pastor of Ministry and Maturity at Christ the Savior Lutheran Church in Fishers, Indiana.
She earned her bachelor's degree in history from Davidson College and her master of divinity degree from Trinity Lutheran Seminary. While in seminary, she received the Auer Award as the Most Promising Second Year Student and the Goethe Scholarship as the program's Outstanding Senior Student.
"It's been a wonderful 10 years of work," Davis Manning said, going on to reflect on the time when she was a participant of highly-competitive WPLP.
"The program gave me confidence to trust my pastoral instincts and tell myself, 'What you're doing does matter in the world,' and it gave me resources and helped build connections with some of the highest-level leaders we can find to be in conversation with," Davis Manning said. "Those soul connections are the piece that sustain early career pastors to continue doing this work of adaptive leadership in our communities as we seek to be wise in understanding what's happening, why it's happening, and then thinking about what should be happening in the light of the Kingdom of God."
Participants in the WPLP typically meet on the Wabash campus 10 times during a two-year period, but due to the coronavirus pandemic, most of the current cohort's activities have taken place in virtual settings. Each session contains intentionally constructed opportunities for renewal, worship, discussion with civic, government, and religious leaders about the selected topic, and peer discussion of resources in Christian thought and action for clear ethical analysis and effective response in congregations and communities.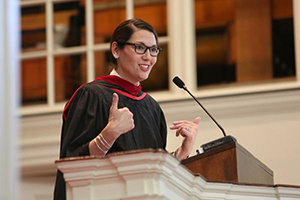 Previous session topics have included adaptive pastoral leadership, community well-being, demography and immigration, education, Indiana's changing economy, hunger and poverty, administering justice, healthcare, and conflict resolution and reconciliation.
Travel is an essential dimension to the program, which seeks to both deepen and broaden pastors' understanding of their leadership roles in a variety of contexts. During the first year of their participation, pastors take part in a study tour in North America and the second-year experience includes an international study tour. Travel for the current cohort of pastors has been postponed due to COVID-19.
To find out more about the Wabash Pastoral Leadership Program, please visit the program's website at https://pastor.wabash.edu/.