PJ Mays '19: Conquering the Challenge
by Christina Egbert • May 9, 2019

Share:
When PJ Mays '19 first learned about Wabash College, he was told it would be a challenge—that was all the Chicago native needed to hear. He wanted to see if he could make it. As he prepares to graduate, the rhetoric major is now looking back and saying, "I did it."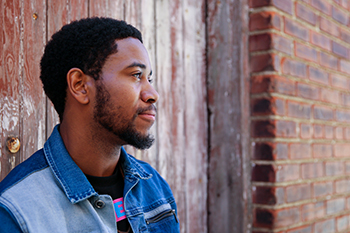 Q: When you think about your freshman year, what do you remember?
A: I remember I wanted to leave. My plan was actually to come to Wabash just for a year and then transfer to Florida Atlantic to play football. I had a preferred walk-on spot there, but I had the potential to play here and get more film instead of trying to red-shirt there.
I had a rough freshman year. I wasn't in a good mental place, so I would've been leaving with the emotions of failure and defeat. I don't think I would've been satisfied with myself if I left that way. So coming back and saying I did it? That's dope.
And it sounds weird, but I also fell in love with everything here—the guys, the culture, the challenge. After making the connections that I did here, it was tough for me to want to leave.
Q: If you could give advice to freshman-year PJ, what would you tell him?
A: I would say: Try just a little bit harder and stay single. Enjoy yourself. Stay involved. Be more proactive. Learn to think ahead while still staying in the moment. And, whatever it is, go for it.
Q: What made you choose rhetoric as your major?
A: The diversity of it. It can work on its own, but it's better when it has multiple disciplines working along with it. You can make it your own, you can be creative with it, and it allowed me to talk! It also had a sociology feel to it that I appreciated.
Q: How do you think your rhetoric major will help you in your future career?
A: Being able to look at every aspect of an argument—the good and the bad—and being able to dissect them is something that's useful in all fields. There are always good points to a person's argument, and they should be appreciated and used to collaborate and make better decisions.
You have to be able to take little nuggets of good things and make them into diamonds. And I think rhetoric and a liberal arts education as a whole has helped me learn that.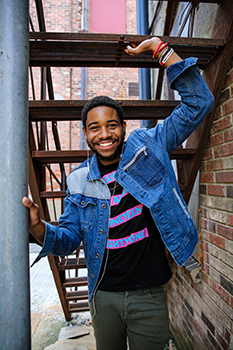 Q: When you cross the stage on Sunday and receive your diploma, what will you be proudest of?
A: I think I'll be most proud of my parents—they've pushed me all the way to that moment. My junior year of high school was so overwhelming that I talked about dropping out. I was a good student. I love education and learning, but I've never appreciated how institutionalized and standardized school can be. My parents kept telling me, 'You've got a year left. You can finish high school.' That's why seeing them after I graduate on Sunday will probably be my proudest moment.
Q: What made you stick it out?
A: I didn't know what else I would do. I wanted to be an entrepreneur—I still do—but I didn't know how to start a business or what business was all about. I knew that you had to get a product, market that product, make sure people enjoy that product, but the accounting and everything else? I didn't know anything about that.
Q: How do you feel now?
A: I feel like I'm more prepared to do what I want to do, and I think that came more with time. But also, Wabash gave me so many opportunities to figure out what I like and what I don't like.
There are still things I don't like about the education process as a whole, but it was worth it. The experience I received from Wabash College, I couldn't have gotten anywhere else. This place challenges you, and if you're willing to put in the hours and go above and beyond, you can conquer this place.