Four More Students Earn Fellowships
by Richard Paige • May 3, 2019

Share:
Four Wabash College students have accepted postgraduate fellowships to serve internationally. In all, nine Wabash men have earned international postgraduate fellowships this academic year.
Two students, Jacques Boulais '19 and Brent Breese '19, earned Teaching Assistant Program in France (TAPIF) placements, while Neil Dittmann '19, received a Fulbright English Teaching Assistantship (ETA) to Germany, and Evan Frank '19 earned a United States Teaching Assistantship (USTA) award to Austria.
"I am thrilled for Neil, Evan, Jacques and Brent, who join our previously-named winners this spring," said Susan Albrecht, Wabash College Fellowship Advisor. "These gentlemen are highly deserving of their awards and are all eager to begin their experiences abroad in the fall. Each of the programs offer tremendous opportunities for cultural exchange, ambassadorship, and teaching or study. It is gratifying to have selectors recognize the accomplishments and potential of Wabash men and to envision these nine heading out to make a difference in so many different areas of the world."
A French major with minors in history and political science, Boulais was a four-year member of the Wabash soccer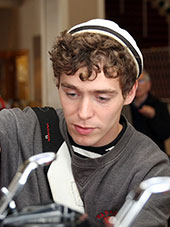 team, a member of the Sphinx Club, a leader in the French Club, and a member of Kappa Sigma fraternity. Previously, he took immersion trips to Kenya, Paris, and the American South with the History of African-American music class, and studied abroad in Strasbourg, France.
"I started taking French in high school, and here at Wabash I really fell in love with it," said Boulais, a native of Indianapolis. "To have the next steps mapped out, it feels good. Knowing that I'm going to meet new people and continue to use the language and the skills I've developed is a really good feeling."
Boulais will be based in Martinique.
"It is a joy to learn than Jacques has been awarded a TAPIF Fellowship," said Adrien Pouille, Visiting Assistant Professor of French. "Jacques is an intelligent, goal-oriented, and tenacious individual. These qualities, combined with his pleasant nature, have earned him good friends and academic success on campus."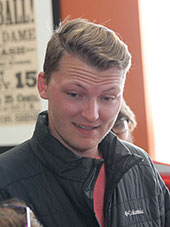 Breese, a French major and English Literature minor, is a member of the Sphinx Club, served as a copy editor for The Bachelor, is vice chair of the College Republicans, and a member of Phi Gamma Delta fraternity. He studied abroad in Strasbourg, France.
"The love of the country came after the love of the language," said Breese, a native of Hobart, Indiana. "I fell in love with studying the language first a long time ago, and naturally, to get better in the language, you need to interact with native speakers. I came to fall in love with the geography, the history, the culture, the food, and the people. I see the TAPIF as an opportunity to continue study of the French language and to enjoy traveling the world."
Breese will be based in the Orléans-Tours region of France.
"Brent is an enthusiastic learner of French who brings a lot of passion to the French section," said Karen Quandt, Assistant Professor of French. "Already a gifted speaker of French and a voracious reader, this fellowship will allow him to become even more fluent in the language and to experience a fuller breadth of French culture in a professional setting. He will be a dynamic and conscientious teacher, and offer many opportunities for cultural exchange to his students."
Dittmann, a psychology and German double major, was treasurer of the Public Health Organization, was involved in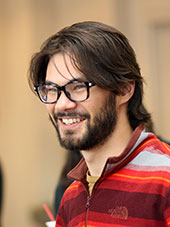 the German Club and Climbing Club, and was a member of the Glee Club and Chamber Orchestra, where he played the oboe. Previously, he studied abroad in Vienna, Austria, and Marburg, Germany, in the spring of 2018, took immersion trips through the American South with the History of African-American music class, and to Tübingen, Germany, in the spring of 2016.
"I've been studying German for about seven years, and after studying abroad I really wanted to get back to Germany," said Dittmann, a native of Snohomish, Washington. "I knew it was a language that I wanted to continue studying, and this was one way for me to achieve that goal and follow my interests. There is nothing else that I would rather be doing next year other than living abroad."
Dittmann will be based in the Schleswig-Holstein region of Germany.
"In a good liberal arts education example, Neil brought his musical interests into his senior capstone research project for psychology by studying cross-modal associations between color and pitch," said Karen Gunther, Associate Professor of Psychology. "In Neil's research, we showed that this association is based on the brightness of the colors, not the hue. We are planning to submit this work for publication."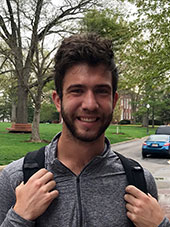 A history and German double major with a minor in economics, Frank was a multi-sport athlete, playing two years for the Wabash basketball team and earning a varsity letter in tennis. He was active in the German Club, Student Senate, and the Independent Men's Association. Previously, he took an immersion trip to Tübingen, Germany, in the spring of 2017, and studied abroad in Heidelberg, Germany, the following fall.
"To be able to teach English in a different country, and to grow up in a sense, I felt like it was a once-in-a-lifetime experience," said Frank, a product of Indianapolis. "It gives me more time to think about my long-term goals while doing something productive and prestigious. It's cool to have the language skills to be a part of the world. Those skills allow me to stress how comfortable I feel in talking to people and to show that I care about their culture, which enables a more personal connection."
Frank will be based in Graz, Austria.
"Evan is a hard-working guy who has come into his own academically the last two years," said Stephen Morillo, Professor of History. "His inclination to combine perspectives and methods from his German and history majors makes him an ideal Wabash liberal arts student."
The Teaching Assistant Program in France offers the opportunity to work in France for seven months, teaching English to French students of all ages. Each year, over 1,500 American citizens and permanent residents teach in public schools across all regions of metropolitan France and in the overseas departments of France like French Guiana, Guadeloupe, Martinique, and Réunion. The American cohort is part of the larger Assistants de langue en France program, which recruits 4,500 young educators from 60 countries to teach 15 languages annually in France.
The Fulbright and USTA programs are similar in their goals to place recipients in a classroom abroad to provide assistance to teachers of English to non-native English speakers, while serving as a U.S. cultural ambassador. It is the job of these native English speakers as teaching assistants to make learning a foreign language a lively cross-cultural encounter for their students. The age and academic level of classroom students varies by country, ranging from kindergarten to university.
Over the last six years, 47 Wabash men have earned international fellowships. The list includes a Rhodes Scholar, 22 Fulbright recipients, 13 Gilman Scholarship recipients, six USTA fellowship recipients, three TAPIF English Teaching Assistantships (France), one JET recipient, and a North American Language and Culture Assistantship in Spain.