WDPD Hosts Urban Greening Discussion
by Richard Paige • October 24, 2018

Share:
The Wabash College Democracy and Public Discourse initiative (WDPD) will host a community deliberation on urban greening in small towns at 8 p.m. on Monday, Oct. 29, at the Carnegie Museum of Montgomery County. The event is open to the public.
"Biodiverse-City: The Opportunities and Challenges of Greening Cities" features a 20-minute presentation by Dr. Heather Reynolds, Associate Professor of Biology at Indiana University, where she will discuss the opportunities and challenges of promoting biodiversity in small towns. Her research on plant-environment interactions center on the importance of plant-soil and plant-microbe relationships and the role of environmental diversity.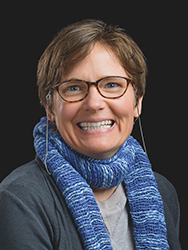 "Biodiverse-City" is a collaboration of the Wabash biology and chemistry departments, and part of the Plants and Pints series, public events that aim to bridge the gap between innovative plant science research being conducted in Indiana and the Hoosiers who benefit from that work. The series is supported by an Indiana Humanities' "Quantum Leap" grant.
Following the presentation, community members will reflect on the presentation and discuss ways to move forward with this information. Community members are invited to join this facilitated discussion on biodiversity and urban greening.
A written report will be created after this event and posted to the WDPD website. This report will recap the event and will be shared with local leaders.
Questions can be directed to wdpd@wabash.edu. The Carnegie Museum of Montgomery County is located at 222 S. Washington Street in Crawfordsville.