FOX Sports Indiana & FOX Sports Midwest Will Televise 125th Monon Bell Classic
• September 25, 2018

Share:
The November match-up between DePauw University and Wabash College marks the 125th game in the historic series known as the Monon Bell Classic, and for a second consecutive year one of America's oldest and most storied college football rivalries will be televised by FOX Sports Indiana and streamed nationally on the FOX Sports app. The 125th meeting in the series, which began in 1890, will take place Saturday, Nov. 10, in Crawfordsville, with kickoff slated for 1:07 p.m. (Eastern Time).
The 125th Monon Bell Classic will be televised on FOX Sports Indiana and on FOX Sports Midwest or FOX Sports Midwest Plus. It will be streamed nationally to all users of the FOX Sports app, FOX Sports GO app, and at FOXSportsGO.com. The game will also be carried nationally, either live or on tape delay, by FOX College Sports.
Click here for channel information.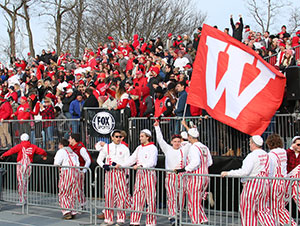 "The partnership that our two schools began with FOX Sports last year resulted in a telecast that received rave reviews from alumni, parents, and others, and received an Emmy nomination," said Ken Owen, of DePauw. "We're thrilled to continue our relationship."
"Fans who attend the game at Wabash will enjoy a number of special features designed to celebrate the 125th game and the amazing history our two colleges share, but for those who can't attend on game day this is an exceptional platform with wide reach," said Jim Amidon of Wabash College.
Regional sports networks FOX Sports Indiana and FOX Sports Midwest are the television home of the Indiana Pacers, Indiana Fever, St. Louis Cardinals, St. Louis Blues, Kansas City Royals, and much more, producing more than 2,000 hours of live local programming each year. Nationally, FOX Sports' 22 owned-and-operated regional networks serve as the regional TV home to 44 MLB, NHL, and NBA teams.
DePauw and Wabash first met on the gridiron in 1890. In 1932, a locomotive bell from the Chicago, Indianapolis, and Louisville Railroad Company, also known as the Monon Line, was donated and became the winner's trophy each year. In the all-time series, Wabash holds a 61-54-9 lead.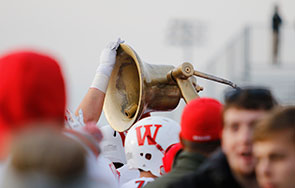 Tickets for the game will be available in mid-October.
The game was first televised in 1977 by ABC on a regional basis; national telecasts began in 1984, and the game has been seen on ESPN2 and AXS-TV, among other outlets.
To date, 22 contests in the historic series have been captured on DVD. DVDs of the 1977, 1984, 1993, 1994 and 2000-17 Monon Bell Classics are available in the Wabash College Bookstore.
TELEVISION AND STREAMING INFORMATION FOR THE 2017 MONON BELL CLASSIC:
Inside the FOX Sports Indiana/FOX Sports Midwest footprint (Residential)
Cable TV and streaming bundles:
FOX Sports Indiana in Indiana
FOX Sports Midwest or FOX Sports Midwest Plus in Illinois, Missouri, Iowa, Kansas City and Nebraska
FOX College Sports
Satellite:
DirecTV – FOX Sports Indiana, FOX Sports Midwest, or FOX Sports Midwest Plus, channel 671-4, 671, or 671-1
Dish Network – Sports alternate channel or FOX Sports Midwest, channel TBD
Streaming:
FOX Sports app, FOX Sports GO app and FOXSportsGO.com
Nationwide outside the FOX Sports Indiana/FOX Sports Midwest/ footprint (Residential)
Cable TV:
FOX College Sports Central (check locally for availability)
Satellite and telco:
DirecTV – FOX Sports Indiana, FOX Sports Midwest or FOX Sports Midwest Plus, channel 671-4, 671, or 671-1, with a subscription to the SportsPack
Dish Network – Sports alternate channel or FOX Sports Midwest, channel TBD, with a subscription to the Multi-Sport pack
AT&T U-verse – FOX Sports Indiana, channel 749 or 1749, with a subscription to the HD Premium Tier
Streaming:
FOX Sports app, FOX Sports GO app and FOXSportsGO.com
Bars, restaurants and commercial establishments
Cable:
On FOX College Sports Central (check locally for availability)
Satellite: Inside the FOX Sports Midwest/FOX Sports Indiana footprint:
DirecTV – FOX Sports Indiana, FOX Sports Midwest or FOX Sports Midwest Plus, channel 671-4, 671 or 671-1, with Commercial Choice package
Dish – Sports alternate channel or FOX Sports Midwest, channel TBD; check with Dish representative for more information
Outside the FOX Sports Midwest/FOX Sports Indiana footprint:
DirecTV – FOX Sports Indiana, FOX Sports Midwest or FOX Sports Midwest Plus, channel 671-4, 671 or 671-1, with FSN A La Carte package
Dish – Sports alternate channel or FOX Sports Midwest, channel TBD; check with Dish representative for more information
Streaming:
FOX Sports app, FOX Sports GO app and FOXSportsGO.com