Princeton Review Lauds Wabash
by Richard Paige • August 6, 2018

Share:
The Princeton Review ranks Wabash College among the finest institutions nationally for undergraduate education in its annual college guide.
Inclusion in the Princeton Review's "Best 384 Colleges" indicates that Wabash ranks among the top 15 percent of 2,500 U.S.-based four-year colleges. The review includes detailed accounts of the best schools with rating scores in eight categories. Wabash received an overall academic rating of 95 with scores of 99 in the categories associated with teaching, faculty interest, and accessibility.
"Wabash is one of the nation's great colleges – period," said Wabash President Gregory D. Hess. "When you combine what our students say about the College with the experiences they have and the outcomes they achieve, it puts Wabash on par with the most elite institutions in the country. There is a direct connection between our nationally ranked career services and the exceptional placement rates and high salaries our young alumni earn. Those things are driven by our exceptional faculty and distinctive, student-centered classrooms."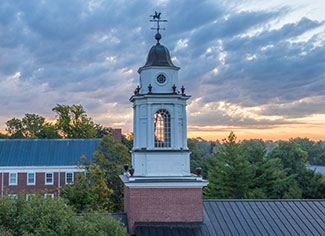 In addition, the Princeton Review's college guide includes lists of top-20 schools in 62 categories, which are based on surveys of 138,000 college students collected during the 2017-18 academic year.
Wabash ranked in the top-20 in 12 categories overall.
The liberal arts college for men consistently gets high ratings for its faculty, including No. 4 for the "Most Accessible Professors" and No. 10 for "Professors Get High Marks." Students cited a strong relationship with top-notch faculty, whose personal attention pushes them academically, sharpening critical thought, and supporting the development of a wide-ranging educational experience.
Wabash also earned recognition for "Best-Run Colleges" (No. 20) and a place with "Lots of Greek Life" (No. 4).
The College's Schroeder Center for Career Development received high marks for its efforts, ranking No. 2 nationally in "Best School for Internships" to go with a No. 6 placement in "Best Career Services."
"Professional Development is delighted with this latest recognition from the Princeton Review," said Steven Jones, Dean for Professional Development. "Our students are highly competitive and continue to achieve significant outcomes. These outcomes are fostered by having a collaborative team of Wabash College professors, staff, and alumni, who always work in the best interests of our students."
Wabash was named one of the top institutions in the Midwest and is listed No. 2 nationally in "Best Alumni Network," No. 18 among the top-50 "Colleges That Pay You Back" — a national designation that takes into account factors like career placement, financial aid, and career earnings following graduation, and No. 19 in "Colleges That Pay You Back Without Aid."
"We are pleased, but not surprised, that our Wabash alumni network once again ranked near the top of the Princeton Review rankings," said Steve Hoffman, Director of Alumni and Parent Relations. "It is refreshing to know that our students recognize the commitment of our alumni and how effectively they engage with the College."
Among the other top-20 rankings, Wabash ranked No. 4 in "Everyone Plays Intramural Sports," and No. 13 in "Best Athletic Facilities," and No. 19 in "Students Pack the Stadiums."
"Our athletics facilities portfolio remains one of the strongest in all of NCAA Division III, and the latest rankings reflect the high quality physical environment that complements Wabash students' academic experiences," said Matt Tanney, Director of Athletics. "Our fields, courts, and fitness spaces provide further opportunities on campus for students to learn, grow, and lead."
Wabash has been featured in every edition of the Princeton Review's college guide since the service was established.