Wabash Named College of Distinction
by Richard Paige • July 24, 2018

Share:
By demonstrating continued dedication to student-centered learning, Wabash College has been named as one of the nation's Colleges of Distinction.
Wabash has created a unique learning environment where students not only earn college credit and valuable life experience, but also participate in character-building, student-centric programs that begin before classes start and continue benefitting students throughout their Wabash experience. Chief among these are the Wabash Liberal Arts Immersion Program (WLAIP), Freshman Tutorial, Enduring Questions, the Liberal Arts Plus initiatives, immersion experiences, senior seminars, and comprehensive exams.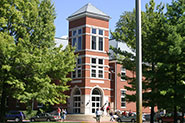 "All of our programs push students to work and think harder, longer, and better than they think they can while also supporting them actively in that work," said Robert Horton, Professor of Psychology and the Director of the WLAIP. "We try to strike the important balance between encouraging student independence and ownership of their education and providing the guidance and resources these students need to succeed. What we do at Wabash has the central mission of developing the student holistically – intellectually, socially, emotionally – in the hope that each will be an effective citizen and will live a better life than he might have otherwise."
The selection process at Colleges of Distinction requires that institutions adhere to the Four Distinctions: Engaged Students, Great Teaching, Vibrant Community, and Successful Outcomes. This process also includes a review of each institution's freshman experience as well as its general education program, strategic plan, alumni success, satisfaction measures, and more.
"We are truly honored to name Wabash as a College of Distinction for its continued commitment to student success," said Tyson Schritter, Chief Operating Officer for Colleges of Distinction. "Our goal is to select schools that are 100% focused on the student experience, driven to produce well-rounded graduates who are prepared for a global society and economy. Becoming a College of Distinction is proof that the institutions we select are fully invested in their students' success, beginning on day one and continuing through the rest of their lives."
Colleges of Distinction has recognized schools throughout the U.S. for excellence in undergraduate-focused higher education for nearly 20 years. The member schools distinguish themselves through their focus on the undergraduate experience. For more information, as well as resources for students, parents, and high school counselors, visit CollegesofDistinction.com.