Tanney Named Director of Athletics at Wabash
by Brent Harris • May 4, 2018

Share:
Crawfordsville, IN — Matt Tanney, a former two-sport athlete, honors graduate, attorney, and seasoned athletic administrator, has been named Director of Athletics and Campus Wellness at Wabash College.
In making the announcement, Wabash President Gregory Hess said, "Matt has deep roots in Wabash, and will bring an exceptional commitment to the academic experience of all student athletes and a great knowledge base and skill set that will continue to make our athletics operations and wellness offerings stronger."
Tanney returns to his alma mater after spending the last three years as Director of Athletics at Western Illinois University, where he directed the operations of a 19-sport NCAA Division I athletics department. He previously worked in compliance at the University of Oklahoma, University of Dayton, and The Ohio State University.
Tanney was a Phi Beta Kappa English major at Wabash, graduating magna cum laude in 2005. He earned his law degree from the Robert H. McKinney School of Law at Indiana University.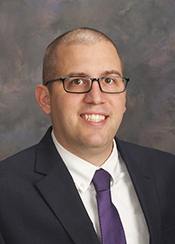 "It is a privilege to return to Wabash as the Director of Athletics and Campus Wellness," Tanney said. "The College provided me an exceptional experience as a student, so the ability to serve in this role is beyond humbling. I'm excited to join an already outstanding group of coaches, faculty, and staff dedicated to the student experience. I look forward to collaborating with our student-athletes in their pursuit of academic and athletic excellence at a place where both are attainable, and engaging with the best alumni network in the country in their support of our students' endeavors."
While at Western Illinois, Tanney supervised a department of more than 80 coaches, staff, administrators, and graduate assistants with a $12 million budget. He helped institute new programs that saw significant increases in grade point averages across the department. Under his leadership, the football team made two FCS playoff appearances and defeated FBS opponents in both 2016 and 2017. The women's basketball team won the Summit League championship and made its first NCAA tournament appearance in more than a decade.
His experience includes athletic communications, compliance, business and financial operations, game operations, and fund raising. His department established new programs for mental wellness, leadership development, and social media education, and implemented a new survey instrument to provide anonymous feedback from student-athletes about their experiences.
"I really liked Matt's student-centered philosophy, which aligns well with the ethos at Wabash," said search committee member Dr. Michele Pittard of the Education Studies Department. "The fact that his references said he's been shaping himself for this position confirms his commitment to Division III athletics. I also very much appreciate his direct and candid manor. I believe this will be a valuable asset in terms of communication and collaboration with colleagues both in the Athletic Department and with the faculty."
"I'm especially grateful to President Hess and the entire search committee for the opportunity to lead the Little Giants athletics program," Tanney said. "My wife, Julia, and I know that our family is joining a special place."
Tanney replaces Greg Shaheen, who resigned in April after serving two years. Tanney will begin his new responsibilities May 21.